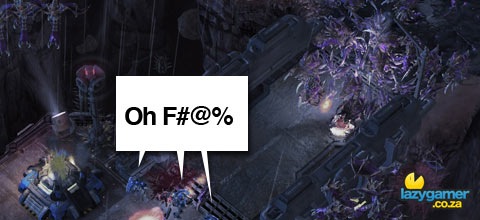 We have just received a press release from Megarom informing us that they will be hosting a special Starcraft II exhibition tournament at the end of July.
The exhibition will feature some of SA's best local players as well as some pro commentary that will give spectators some deep insight into the strategies of the hectic multiplayer gameplay. The exhibition is set to be held on July 31st in Midrand at the Sound Room, just a few days after Starcraft II's release.
So for those of you interested in really getting to grips with one of the most anticipated releases of the decade, you will want to check this out. The event will be invitation only, so you had better keep your eye out for more news on how to get an invite to the event.
More info can be found in the Megarom press release, after the jump.
Starcraft II: Wings of Liberty Exhibition Tournament

Johannesburg, South Africa – July 02, 2010 – Megarom Interactive (Pty) Ltd., South Africa's leading importer and distributor of interactive video games, is proud to announce that Megarom will be holding an official exhibition tournament with some of the best Starcraft 2 gamers in the country. The event is being done in conjunction with ASUS, Do Gaming, 4Pooled, and I R Gamer and will be happening on the 31st of July 2010 at the Sound Room in Midrand, Johannesburg.

Starcraft II: Wings of Liberty will release on the 27th July 2010. In celebration for the launch of the long awaited title, Megarom will be throwing an event of epic proportions! The event will be an Exhibition Tournament, displaying the skills of some of the best players in the country as selected by 4Pooled, details of the players will be released soon so watch this space. Do Gaming have opened up a Starcraft II Launch Center on their website so go and check it out for all the latest news on the new Starcraft II: Wings of Liberty game.

Guests will be treated to Starcraft II mastery with commentary from Jonathan "ZeeOne" Attwell and his colleague Sven "Shadowtheif" Paulsen (4Pooled), who will also provide some insight into strategies and tactics as well as what is new with Starcraft II: Wings of Liberty.

The event will play host to players, press and retailers and is by invitation only, invitations will also be made available to the community so that they can come and watch some of the best players in action.
Last Updated: July 2, 2010