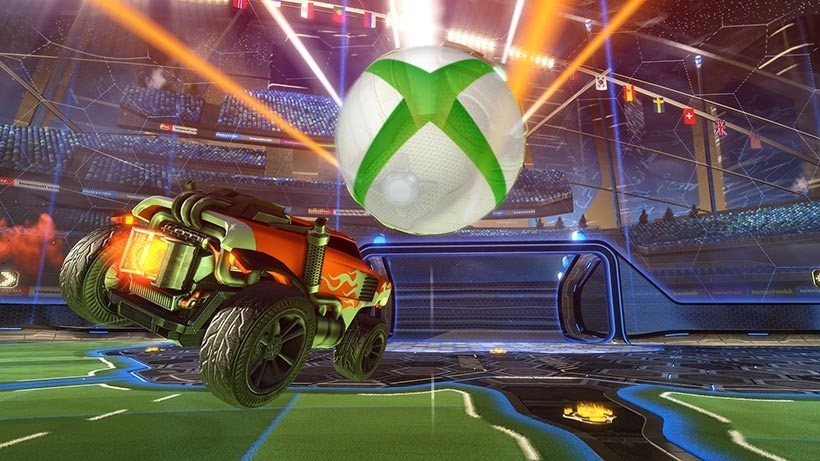 Our favourite team game of the year is most certainly Rocket League. Even though most of us absolutely stink at the car football game (except for Matty who can apparently score goals from across the field like a GAHD, and Gavin, whose a self-proclaimed Rocket League champion), Rocket League is still fun! If you know what I'm talking about, then you're either jamming it on PC or PlayStation 4 right now.
And Xbox One owners, looks like you're up next for a turn behind the wheel.
The sports sim of the future (look, rocket-propelled cars on a football pitch needs to be an Olympic event) will hit Xbox One soon by the look of things. A rating for said game was spotted on Taiwan's games rating database, via Gematsu. It makes sense to target the Xbox One next, although I wouldn't hold my breath for a free version like the one that PlayStation owners got their hands on in the PlayStation Plus collection.
Rocket League is apparently still going strong, thanks a culture of constant updates that tweak the game and free DLC. Speaking of DLC, the Chaos Run pack should be live now. That pack includes including two new Battle-Cars (Ripper and Grog), 12 new Decals (six for each new vehicle), and several new Paint Types, Wheels, Rocket Trails, Toppers, and Antennas:
2 New Battle-Cars, Ripper and Grog
12 New Decals (six for each new Battle-Car)
2 New Paint Types (Camo and Sun-Damaged)
2 New Wheels (Ripper and Grog)
2 New Rocket Trails (Sandstorm, Nuts and Bolts)
3 New Toppers (Boombox, Cow Skull, Mohawk)
3 New Antennas (Bomb Pole, Radioactive, Retro Ball – Wasteland)
5 New Trophies (PS4) and Achievements (Steam)
An upcoming patch will also throw in the following free updates:
The new, non-standard "Wasteland" Arena
New, post-apocalyptic theme music, "Scorched Earth," by Kevin Riepl
Several new Garage item surprises
Now to patiently wait for a patch that adds extra-easy-take-pity-on-me mode, so that I can finally feel like I have some skill in Rocket League. Hopefully, the Xbox One version will allow for cross-platform play, letting those on all platforms play against each other.
Last Updated: December 2, 2015