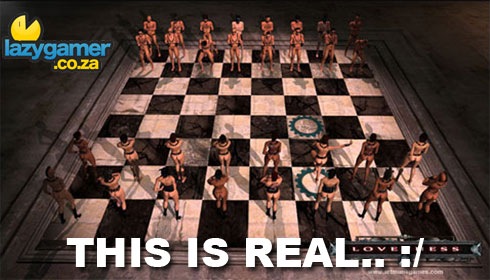 It seems nerds may have gotten bored of the deluge of free porn on the internet. Chess is a king amongst games – a deep, strategic game representing the distilled fundamentals of war that's been enjoyed by some of the world's best thinkers. It's a game that's characterised by forward thinking, and planning ahead.
Thanks to Lovechess Salvage, that planning ahead may include making sure you have a box of Kleenex and a bottle of hand lotion handy.
Lovechess Salvage, you see is a dirty bastardisation of the game that replaces the pieces with opposing sides of rather naked men and women who engage in disgusting, wanton, lascivious acts of depravity. just the thing for me, then.
Much like Battle Chess – a favourite of mine growing up – only instead of getting your head cut off, you'll just get head. According to the game's site, you get to control the virtual sex, to the point of wargasm apparently.
While I like carnal pursuits as much as the next red-blooded guy, this pawn is just tacky. In their issued release the developers of the game – Artmunk Adult games – have said the game is still in testing stages. If you have your own issued release, please just remember to wash your hands afterwards.
You can see more explicit, and decidedly NSFW pics over at the official site.
Source : Destructoid
Last Updated: May 18, 2010