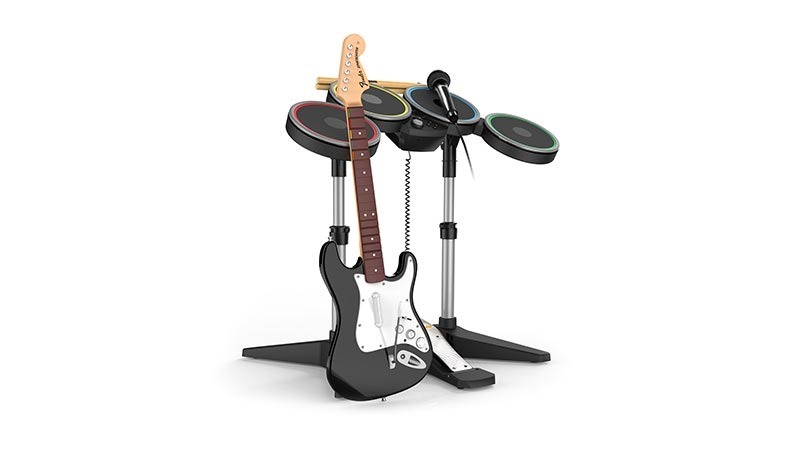 Game peripheral maker Mad Catz opted to co publish Harmonix's Rock Band 4 for the new generation of consoles. It was meant – along with Guitar Hero Live – to re-energise the fake plastic instruments music game genre. It's unfortunately done quite the opposite.
While the series still has its ardent fans and Rock Band 4 is by all accounts a really good game that polishes the last few scuffs from the series, it's just not done very well at all. Unfortunately for Mad Catz, they seem to have bet big on the game's success. It's a bet that's costing them a ridiculous amount of money – and could even sink the company.
According to its latest financial statements, Mad Catz is in a whole heap of trouble. And its huge focus on trying to make Rock Band 4 successful has left other, potentially profitable bits of its business in trouble.
The company has turned its previous year's profit of $4.7 million into a staggering $11.6 million loss – and Rock Band 4 is almost entirely to blame. In March this year, Harmonix partnered up with PDP as co-publisher on Rock Band 4, with Mad Catz terminating its agreement. They do, however, still have holds $8.3 million worth of Rock Band inventory sitting gathering dust in warehouses, which it needs to sell before September 6, 2016. After that, we may be looking at an ET landfill situation.
In March this year, Mad Catz cut 37% of its workforce in an attempt to save money by simplifying their business. This came just days after high-profile resignations including the CEO and Chairman of the board.
"These changes will allow us to operate more effectively and help create an organization that is more agile, able to pursue growth and regain share in our core markets by simplifying our processes and reducing our operating costs, thus increasing our competitiveness and profitability without compromising the quality of our product offering," says McGinnis. "This realignment of our resources will also enable us to better support strategic initiatives that will make our product slate more competitive, help us gain added consumer interest, and create sustainable shareholder value."
Last Updated: January 4, 2017