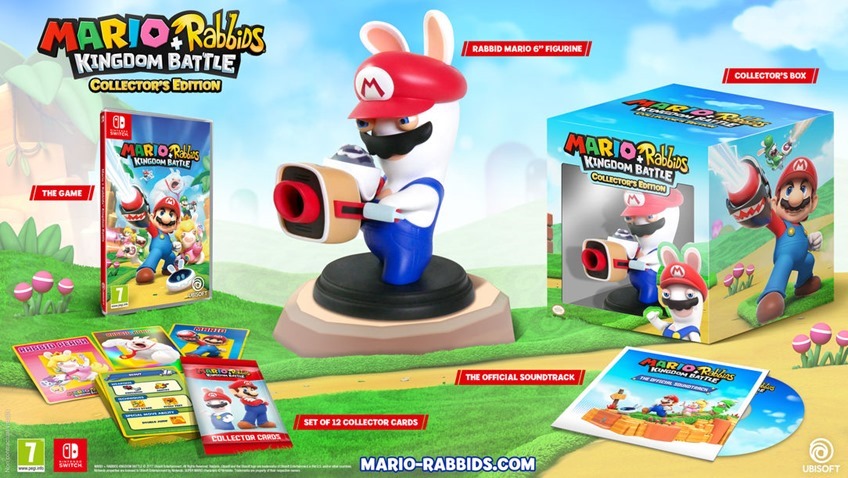 Listen up. I am an idiot, and I was wrong. When Mario + Rabbids Kingdom Battle was leaked I thought that it was a joke. See, I absolutely hate Ubisoft's proto-minions, the Rabbids. Sure, they were cute and funny for a while, but that joke became really stale, really quickly.
Fast forward a few months, and I'm in love. Though I'm far from done with it, the game is genuinely incredible. It blends the Mario and Rabbids worlds perfectly, capturing the essence of what makes them (mostly Mario) so good. With its tactical, turn-based strategy, it's like XCOM in Mario land, managing to be strategic, deep and rewarding – but incredibly accessible.
Anyway, it's out today, and to celebrate that we've got a copy of the Collector's Edition of the game to give away. All you need to do is watch me unbox the thing, then tell us which of the characters is your favourite, in the comments right under this article, or on the YouTube video. Or both, for a bonus entry.
Inside the CE, you'll find:
A copy of the game!
A copy of the game's soundtrack, from musical wizard Grant Kirkhope
A set of collectible cards

An ABOMINATION

A Rabbid Mario Statue
Because the CE that you'll be winning is actually the very one from the video, you'll also win a set of my fingerprints.
It's for people in South Africa only. Winners will be randomly drawn on September 10. It's open to everyone within South Africa's confines, except Rabbids. ABOMINATIONS!
Last Updated: August 29, 2017