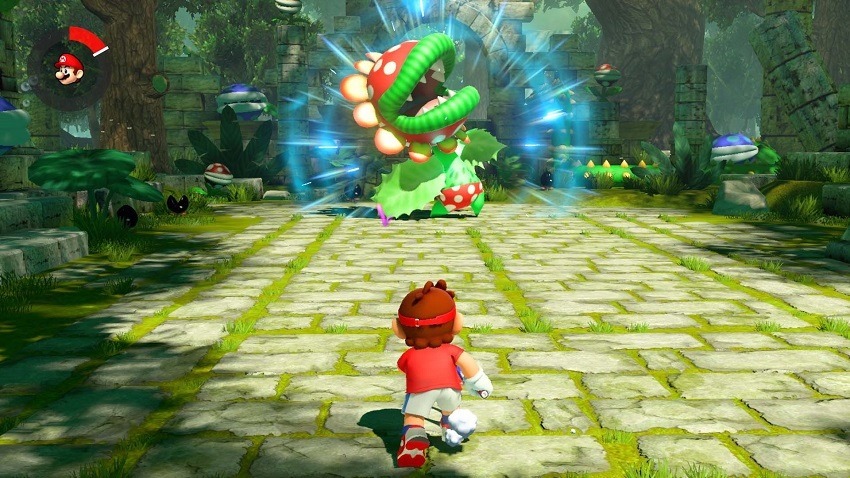 Mario Tennis Aces is just over a month away, which seems to be getting lost under all the talk of the other games Nintendo is planning to show off at E3 in a few weeks. And that's a darn shame, because this new spin on Mario Tennis actually looks incredibly fun. There are the regular online modes for you to lob and cut your way through other opponents, but Aces will also feature a pretty expansive Adventure mode for you to learn the ropes. And save Luigi, of course.
Luigi has been captured by the Legendary Racket (puns) and thus needs Mario and Co. to slam their way through a host of individual challenges to save him. That means taking on Piranha Plants with tennis balls, and using the wide breadth of character abilities to add power and precision to each shot you make. There's a lot going on under the surface of Aces that is far more than just traditional tennis, so this seems like a good way to learn them in a fun offline environment.
Mario Tennis Aces is also getting a beta early next month, which will run between June 1-3. You'll actually be able to download it as early as next week though, just so you're ready for the servers when they go live. If it's anything like past online tests for the likes of Splatoon and Arms, you can expect the game to only be live for certain periods during this weekend. But in addition to having four characters (Mario, Yoshi, Peach and Bowser) to play around with, you'll also be able to challenge a CPU opponent offline for when servers are down or you're out and about.
Mario Tennis Aces might not have the same type of mainstream appeal like Super Smash Bros, but it looks like the perfect multiplayer distraction that will fit with short play sessions and laid-back afternoons. I'm excited to sink my teeth into it soon, when it launches on June 22nd.
Last Updated: May 18, 2018