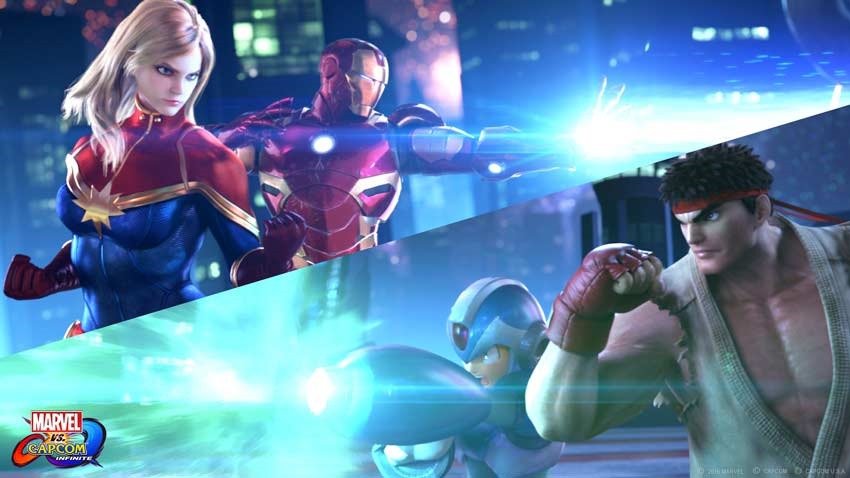 If there's any one game that symbolises the power of button-mashing, it has to be the Marvel Vs Capcom series. Sure, having actual skill, learning patterns and knowing the best combination of characters will work most of the time against opponents who headbutt their controllers in a desperate attempt at victory, but hot damn does Marvel Vs Capcom reward anyone who goes wild with their combos.
I've usually always been flabbergasted by those visuals, pretty colours which activate that reptilian part of my brain and leave me drooling more than usual, but I've also loved the team-ups even more. Deadpool and Dante! Ryu and Iron Man! Howard the Duck and Akuma! Erm, I may have made that last bit up. Marvel Vs Capcom 3 was notable for the fact that it allowed players to form a triple-threat tag team, a selection that resulted in the ludicrous attacks mentioned above.
But for Marvel Vs Capcom Infinite, the teams are being scaled back to traditional two-on-two bouts. Why? Because Capcom wants more beginners jumping into the action this time. That's according to co-producer Peter Rosas, who explained to EDGE via SegmentNext of the changes being made to open up the franchise to newcomers:
Players had to make roughly six decisions before they could fight. The people were looking for two characters, which corresponded to their preference. But the third fighter was chosen solely because of his function – perhaps he had a particularly strong anti-air move or something like that … This selection felt totally superfluous.

With this, we want to emphasize the feeling for a partnership and loyalty among the fighters.
Fair enough. I utterly love the series, but I have no idea what I'm doing most of the time. Being able to actually take a breath and plan my attack, is actually welcome. Marvel Vs Capcom Infinite is due some time in the future, and a part of me hopes that Forbush Man will make the cut for the roster.
Last Updated: January 17, 2017