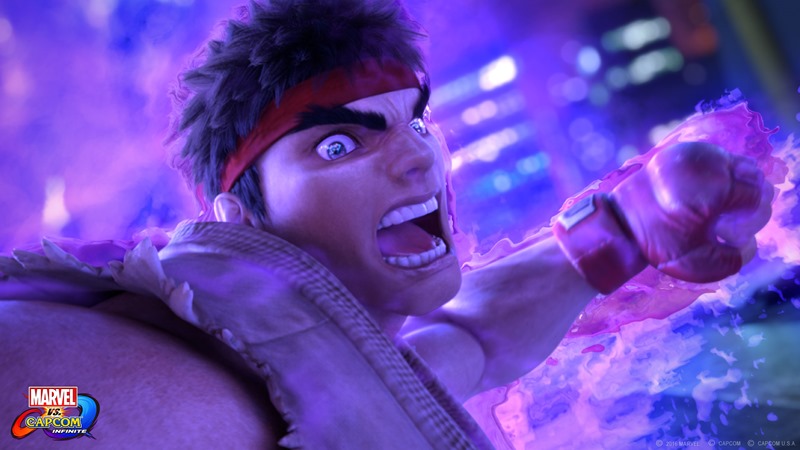 I've never been able to get into the Marvel Vs Capcom series. Not because there's anything technically wrong with it, but usually because any mid-sized attack in that series usually leaves me rolling around on the floor, frothing at the mouth and speaking in tongues. Which also strangely happens whenever I accidentally stumble into a Rule 34 section of the internet.
Anyway, Marvel Vs Capcom 3 looked a rainbow orgy when the action heated up. And I've got the feeling that Marvel Vs Capcom Infinite will be the Eyes Wide Shut version of that. Here's some fresh new gameplay of the Infinity Stone brawler:
So what are we looking at exactly there? On the surface, the action doesn't look that much more different than the previous entry in the series. But dig deeper, and you'll see some tremendously subtle but massive changes. With Marvel Vs Capcom Infinite favouring 2v2 over 3v3 action, one other tag team tactic in play is the chance to have your partner continue a combo chain for you by the look of things.
For serious players, that's a huge advantage that'll have them searching high and low for those perfect roster combinations. Combined with the Infinity Stones, that makes for an even more dynamic style of combat, so it'll be interesting to see if these are make or break mechanics that can turn the tide of a match quickly going south. Capcom says that the gameplay will be a balance between "accessible" single-player across a cinematic story as both the Street Fighter and Marvel Universes join forces to fight a threat to both of their respective realities.
As for the roster? The debut trailer saw Mega Man X, Ryu, Captain Marvel and Iron Man rock up. They'll also be joined by the star-spangled Avenger Captain America and Darkstalkers fan favourite Morrigan when the game arrives next year.
Last Updated: December 5, 2016