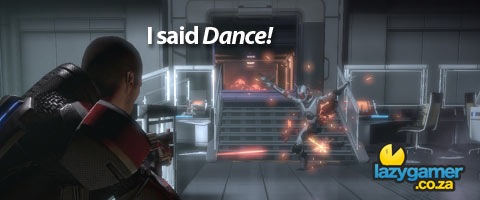 The sequel to one of the Xbox 360's biggest exclusive titles ever hits at the end of this month and needless to say there are a lot of you out there who are counting the minutes.
Some of the first reviews for the game have popped up in magazines around the globe and from the looks of things, there is a heck of a lot to get excited about. I for one think that the first Mass Effect was one of the most fantastic titles to ever grace the Xbox 360 and now that it's sequel is nearly here, I am simply dying to get my hands on it.
So how high are the scores so far? Find out, through the link.
One of the first reported reviews comes in from UK gaming magazine GamesTM, who have just added Mass Effect 2 as only their ninth ever game to be awarded a solid 10/10. They state that the improved combat, memorable opening sequence, near "miraculous" art direction and story are some of the reasons for awarding the game full marks also stating that the writing and characters are a career best for Bioware.
Next up, Official Xbox Magazine awarded the game 95/100 with the excerpt chosen for Metacritic summarizing their feelings on the game:
Mass Effect 2 overcomes its few gameplay weaknesses with a fantastic weave of dynamic combat, lavish presentation, and engaging character and weapon customization. But for all the myriad improvements that make Mass Effect 2's visuals so appealing and its combat so exhilarating, it's ultimately the way it moves us that makes it so memorable.
A review from Polish gaming magazine CD-Action has also just made it's way into the news. Apparently known for being fairly stingy with their scores (it's reported that they awarded Dragon Age an 8+) they have given Mass Effect 2 a big Polish two thumbs up by awarding it full marks with a 10/10.
They went on to say that Mass Effect 2 is the best space RPG ever as well as one of the best tactical shooters to see the light of day in a long time.
I'm really pumped for Mass Effect 2 and with such large improvements as well as a stunning voice cast, I can only imagine that it will be a fantastic cinematic gaming experience, let's hope these reviewers weren't lying.
Hyped? Not Hyped? Leave us a comment and tell us why.
Last Updated: January 18, 2010