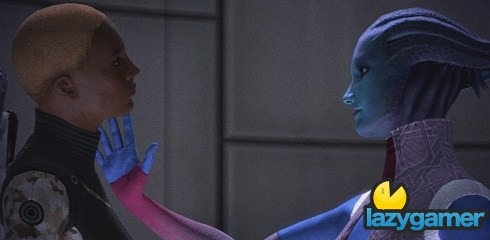 If you are a PS3 game who has been dying to experience the blue alien lesbian scene in Mass Effect then this is your lucky day… or a precursor to your lucky day at least.
In a recent interview with CVG Bioware CEO Ray Muzyka has left the door wide open to the possibility of a PS3 version of Mass Effect becoming a reality anytime now.
When asked why they chose not to bring the series to PS3 Ray countered with
"I think a more accurate way to frame it is to say we've announced we're developing Mass Effect for 360 and PC. Right from the beginning we said we wanted to deliver Mass Effect on the 360. Right now all we've announced is we're working on 360 and PC"
To my mind that's pretty much a definitive statement that they are planning to bring the series to the PS3 in the future.
However when pressed for more information Ray simply responded with
"We haven't announced anything on that"
So nothing is official yet but I would say it's a safe bet that Bioware want to bring it to the PS3 and Sony should want it on their system so it's a match made in heaven.
Now someone just needs to make some money transfer hands and we should be ready to go.
Source: CVG
Last Updated: August 27, 2009