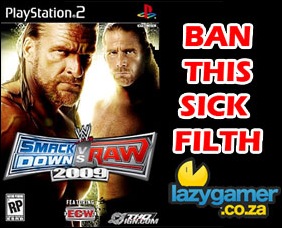 Damori Miles of Brooklyn New York Jumped to his death from apartment rooftop, brandishing a makeshift parachute. Tragically, he died an hour after being found – A senseless death indeed. Also senseless? The media attention the incident is receiving, placing the blame on gaming.
One of the deceased boy's friends was reported as saying  "He tried to do a swan dive like Jeff Harding [sic] does in 'SmackDown.' That was his favorite game. He played it all the time."
I haven't been privy to wrestling goings-on in some years, but I'm fairly certain none of them jump from rooftops wearing parachutes.
And because of the videogame mention, we're now subjected to headlines such as "9-year-old Damori Miles dies in jump off Brooklyn apartment, may have been imitating video game", and "Boy fond of video game wrestler's swan dives makes plastic parachute, takes NY roof death leap." Of course, video game wrestling preceded the "real thing," so that's obviously where blame should lie.
This all shows how terribly videogames are being demonised by mainstream media. Thankfully – and surprisingly – the WWE's comments on the situation actually make a whole lotta sense.
The death of Damori Miles is a tragedy and our condolences go out to his family," said WWE Spokesperson Robert Zimmerman (Not Bob Dylan). "We should allow the authorities to conduct a full investigation… including insecure roof access, before conclusions are made about this unfortunate incident."
Source : NY Daily
Last Updated: April 17, 2009