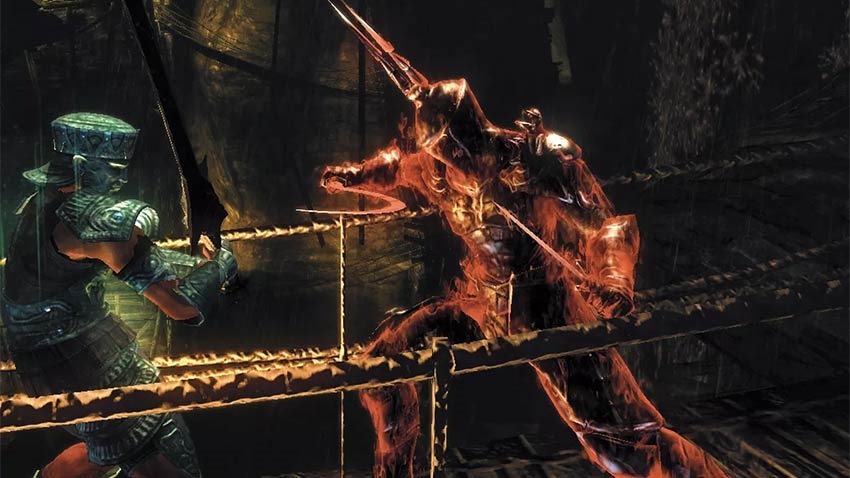 Yesterday, Wired got the scoop (again!) on the PlayStation 5. They got to have a good look at the system, along with the changes that it brings to the system's controller, with its new-fangled haptic feedback , while also speaking to developers who're busy making games for the impending console.
One of those developers is remake and remaster slingers Bluepoint Games, responsible for things like the Shadow of the Colossus remake, The Uncharted: Nathan Drake Collection and Gravity Rush remastered. In Wired's coverage, Bluepoint Games boss Marco Thrush said:
"We're working on a big one right now. I'll let you figure out the rest."
People have done just that, and they believe that the big game Bluepoint is working on is a next-gen remake or remaster of FromSoftware's PlayStation 3 Dark Souls precursor, Demon's Souls. Rumours of that ilk have been swirling around on internet message boards and forums for ages, with many on ResetEra (as one example) believing that Bluepoint's "big one" is Demon's Souls.
Given their propensity for working on Sony-owned property (Demon's Soul's is a PlayStation exclusive, published by Sony las with Bloodborne), it makes a lot of sense.
Earlier this year, Soulsborne game director Hidetaka Miyazaki said that while he doesn't like looking at his previous works, he'd be delighted by a remaster that was "done right" by a studio that "got it"
"If it was a studio that really loved the original work and really put their heart and soul into realising it again, then that's something I would enjoy," he said.

"But it's really complicated because I have these fond memories.

"Thinking about the idea of a remaster gives me kind of butterflies in my stomach and makes me a little nervous, so it's complicated. But I understand there are many users and many players and fans out there who really love Demon's, so if that's something they could accomplish with a studio that loved the work, then yeah, I'd be okay with that."
The IP itself belongs to Sony, and with many new Souls fans who'd buy in to a Demon's Souls remaster on a new platform at launch, it's an enticing proposition.
Last Updated: October 9, 2019