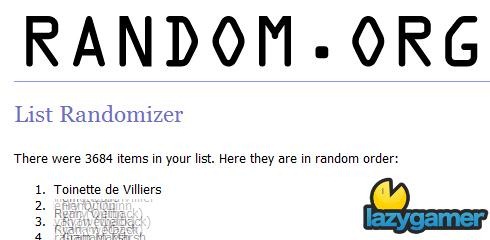 Wow, seriously… 3684 entries into a single competition. Do you have any idea how hard it was to collate all the correct entries?
Thank you everyone for your incredible response and a big congratulations to
Toinette de Villiers
Who's name was randomly chosen via Random.org…
Some interesting points from this competition
You guys/girls love mystery

Batman: Arkhum Asylum is not distributed by

Megarom

However 70+ titles were in the last year

A bunch of you shared the same list of 72 entries

No one followed through with that promised bribe 🙁

A fair chunk of you gave me your age and gender… why?

One of you sent the list of 72 entries 100 times… you only got 72 entries
Toinette there should be an email from me in your inbox, please reply as soon as possible so I can hand over your details to Megarom.
Last Updated: September 19, 2009