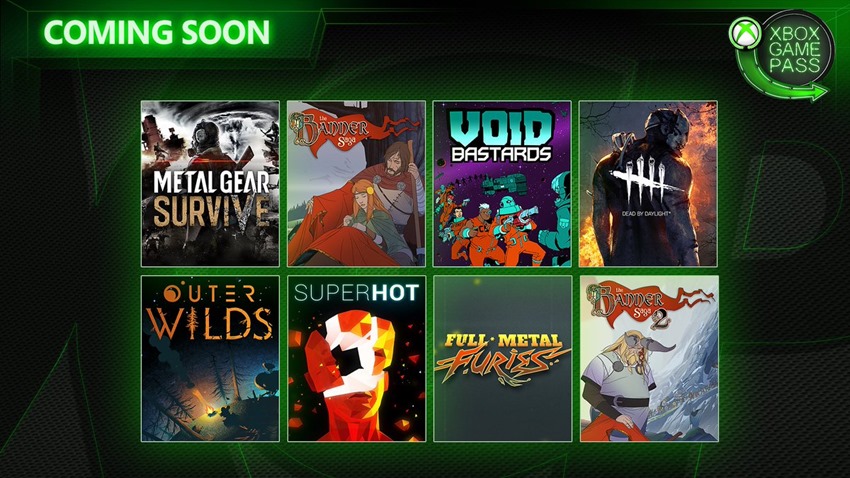 Xbox Game Pass: Sometimes it giveth, and sometimes it supplies subscribers with games that are absolute crap. Is that a harsh statement? Maybe, but the month ahead for Xbox's all you can play buffet happens to have some absolute gems on the horizon that have been tainted by the vile odour of one of the biggest cash-grabs in recent memory: Metal Gear Survive.
Thoroughly bad, awfully designed and not having the merest hint of Hideo Kojima's talent within while attempting to coast off of his kudos, Metal Gear Survive is the kind of game that you wouldn't want to touch with a ten-foot cattle prod. Fortunately, the rest of the month looks great. Here's a breakdown of what your dollar dollar will get you at the end of May and beginning of June:
May 23
Metal Gear Survive
The Banner Saga
May 29
May 30
Dead by Daylight
Outer Wilds
June 6
Full Metal Furies
The Banner Saga 2
Superhot
Not too bad! I've got my eyes on Void Bastards, which looks like my cup of tea: Sci-fi with a sliver of dry British wit and some stunning comic book art. That, and at least I can finally try out Superhot when it arrives in June. About damn time, because I need to remain hip and find out just how those fellow teenagers do. Yo.
Last Updated: May 22, 2019