Metal Gear Solid V: The Phantom Pain was an odd game, filled with all manner of David Bowie references and the usual congested cinematics that the series had become known for. Directed by that fella whose name sort-of-rhymes with Video Emphysema and who totally doesn't exist in any shape or form across all infinite planes of reality according to Konami, there is one thing that the final Metal Gear Solid game got definitively right: It brought the series into the modern age.
I've always felt that Metal Gear Solid games were a bit archaic in their structure, something that's typical of the Japanese industry and its approach to pushing out games. With the Phantom Pain, we finally had a Metal Gear Solid experience that had all the trappings of the modern era of development, as well as all of the negatives that went along with that.
Hahahahaha Mother Base defences and upgrades hahahahaha I hate whoever thought that was a good idea I hate you SO DAMN MUCH.
Anyway, with the Phantom Pain, you didn't just have a solid game (Hahah! I'm on a roll this morning). You had a solid engine that was begging for a repurposing. Depending on how you played it, MGS V was a pretty capable action game, with Konami noticing that it could easily spin off a title that was heavier on that aspect instead of tasking players with sticking to the shadows.
That's pretty much what Metal Gear Survive is. A game that finally has a release date of February 20 in the US of A and February 22 in Europe. Konami confirmed the launch date, as well as the obligatory bonuses for anyone who pops down some early cash and faith for a pre-order. Those players will gain access to the Survival Pack version of the game, which includes the following: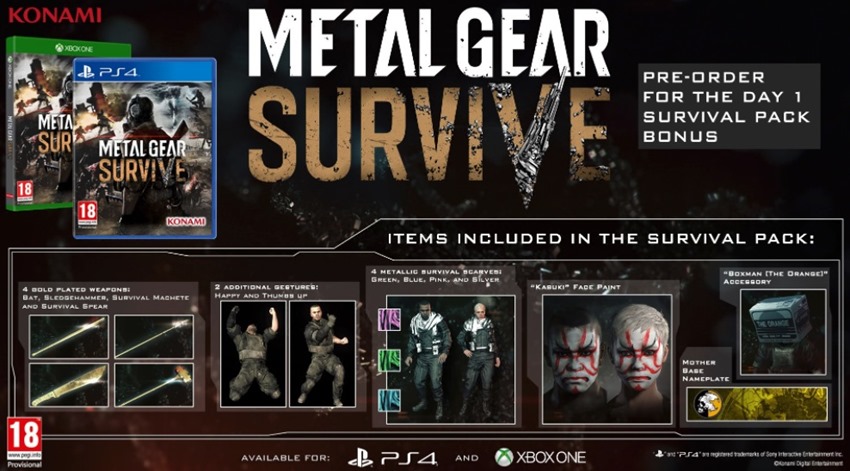 Four gold-plated weapons – Bat, sledgehammer, survival machete, and survival spear
Four survival scarves – Green, blue, pink and silver
Kabuki face-paint
Mother Base nameplate
Boxman The Orange accessory
Happy and Thumbs Up gestures
Well alright then. Konami's Metal Gear Survive is the first game from the series without any input from Cheerio Subpoena. Should be interesting to see how this alt-reality title stacks up.
Last Updated: October 25, 2017