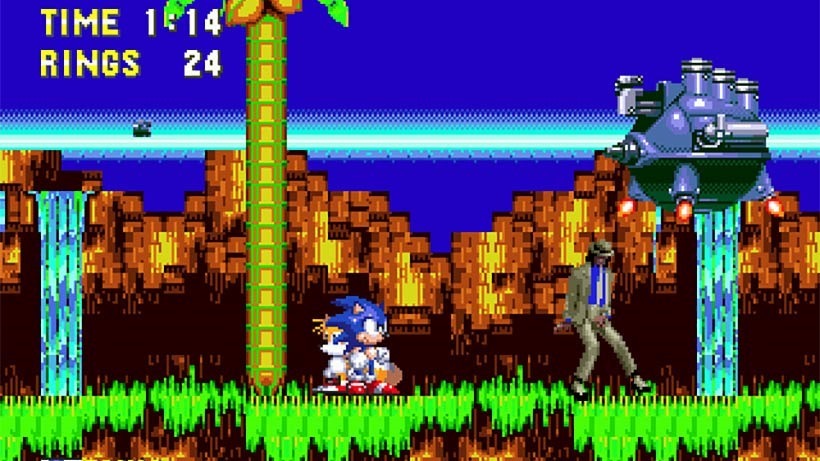 For a long time, it was claimed that now-deceased musical genius and bad Diana Ross cosplayer Michael Jackson had a hand in the creation of the music for Sonic the Hedgehog 3. It's a bit of an industry open secret; everybody knows that it happened, but nobody's opening up and admitting it.
In a long feature, The Huffington Post now claims it has concrete evidence proving one of the video game industry's worst-kept secrets; that Michal Jackson did indeed compose the music for Sonic 3 and Sonic and Knuckles.
According to three of the game's six credited music producers, Jackson worked pretty damned closely with the team to compose Sonic 3's soundtrack?
So why then is it all so hush-hush, and why is it all so secretive? Why would SEGA not want Michael Jackson's name tied to the game? According to the report, the reasons are two-fold.
The first reason, they say, is that once the music was compressed and digitised to fit on the 16-bit cartridges, it sounded a world removed from the original vision, and Jackson was apparently unhappy with the results, not wanting his name attached to the bloops and bleeps that made their way to the final game.
The other reason is the more infamous and obvious one; at the time that Jackson was supposedly busy composing tracks for the game, he was embroiled in accusation of child molestation. This led SEGA to scrap all of the music and redo it – or at least that was the plan. According to some of the producers, tracks were given just minor edits, or left completely alone – leaving Jackson's music still in the game.
It's something we've known about (or at least, suspected) for decades, so it's nice to have something bordering on official confirmation. Read the full report.
Last Updated: January 26, 2016