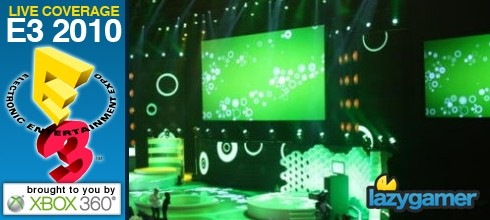 So we're here at the Microsoft keynote and while there are tons of WiFi connections not a single one of them is allowing internet access so this will be a delayed Liveblog.
10:20am Right now it's 10:20am and we are sitting right at the back of the Wiltern theatre looking down on a stage with 5 Kinect's setup and 3 white Xbox 360s.
10:21am I am noticing that the Xbox 360 wave on the big screen is missing it's brand new purple addition that was added last night.
10:24am Briefing to begin in 5 minutes
10:25am We're next to Michael Pachter and Geoff Keighley who are busy chatting to Gametrailers.
10:27am Damn this chair is uncomfortable… The entire theatre is covered in a green hue
10:29am We have just been warned that this briefing contains intense scenes that may disturb us… Gears of War 3 here we come.
10:30am Battlefields, explosions, vietnam? Black Ops… Looks a lot like Modern Warfare, this is a good thing. 11th of September…
10:32am Treyarch studio head giving us a hands off demo of Black Ops. In the tunnels of Vietnam, dead bodies everywhere. Cockroaches, Rats and water all over the place… Your partner just got stabbed. He's dead. This is pretty creepy and now it's gone. Flash forward to Laos (Payback). He's taken a heli by force and now we're flying with a small army attached underneath. Left stick to move Right stick to turn. He just took out a bridge, mass destruction. Now he's taking on an entire village and some boats. The physics look awesome. Here's comes the enemy helicopter.
10:35am He's bobbing and weaving while flying and is standing in front of a Kinect.
10:36am Don Mattrick has come to the stage, Xbox and Activision are announcing a multi year deal where all future addon's and map packs will be first on Xbox 360 for the next 3 years. This is being live streamed to New York's time square.
Purple line has appeared, Kinect logo still crappy.
Hideo Kojima is coming onstage, speaking about MGS Rising and the fact that they are bringing something new to the Xbox 360. He's passed onto his young apprentice (Missed the name).
Video footage of the new MGS Rising… bullets on the floor. Robot thing has no hand but does have a huge gun attached to it;s right arom. It just got slashed by Zan-Datsu.  Who ripped it's spine out as well… and stole it's energy somehow (maybe).
Lots of slashing, damage, slicing bodies using laser targeting. (Nick: Same mechanism as Afro Samurai, just improved)
Now we are getting Phil Spencer. (Corporate Vice President) talking about the top graphics of the Xbox 360 with Halo Reach, Fable 2, Crackdown 2, Splinter Cell, Gears of War.
You choose Xbox Live for it's exclusives, it's all about the exclusives by the look of it.
Here comes Gears of War 3 with Cliff Bleszinski… 4 player story co-op live and in the flesh. Marcus and Delta squad have been ambushed by lambients.
Roadie ran him and speared him… lots of gore, locust rips off the guys leg and beats him with it. Just turned the locust into a suicide bomber. Swapping weapons…. Some huge lambent just popped out of the ground as a huge spire.
It's nasty, and deadly. Shooting flames and when he's down you gotta kill his left overs else he comes back. Here comes the hammer to take out more lambents. Gotta shoot the mutated lambents limbs off. These things are incredibly tough, lambent berserker on screen. It's scary as all hell.
New mode called Beast announced, nothing shown. It looks awesome.
Here comes Peter Molyneux, chatting about Fable 3. coming October 26
Brother on brother, one is the evil ruler and the other an adventurer. It's time for a revolution.
And my battery is now dead.
Codename Kingdoms from Crytek and Xbox 360 exclusive, it reminds me of the Crusades a bit. Looks awesome but we didn't see any gameplay what so ever.
And now we are onto Halo and Bungies creative director Marcus Lehto. 2.7 Million fans played the Halo Reach Beta. Halo Reach campaign gameplay being show.
Flying through planets, the graphics are looking supreme. Dropping 4 spartans onto the planet, very Halo looking title but there is a lot going on with covenant being dropped onto the ground ODST style. I don't know what they are but they are moving fast. The music is far more electric than previous Halo's, fits into the action sequence really well. He just activated the shield and took out a covenant ship of some sort. Covenant can use the armour lock as well. Assassination take down, awesome kill. Tons of dead marines. Lots of red blood all over the place. He's fighting in space, with a space ship… Reminds me of Tie Fighter or X wing.. can't remember.
Here comes Marc Whitten, Corporate vice President, 25 million Xbox Live members. No mention of Gold or Silver though…
Kinect detects movement and sounds, has motorised tilt, RGB camera. Going on about how awesome Kinect is, hands free movie watchin
Last Updated: June 14, 2010