If you've played a big, retail video game since 2000, you've more than likely come across this logo: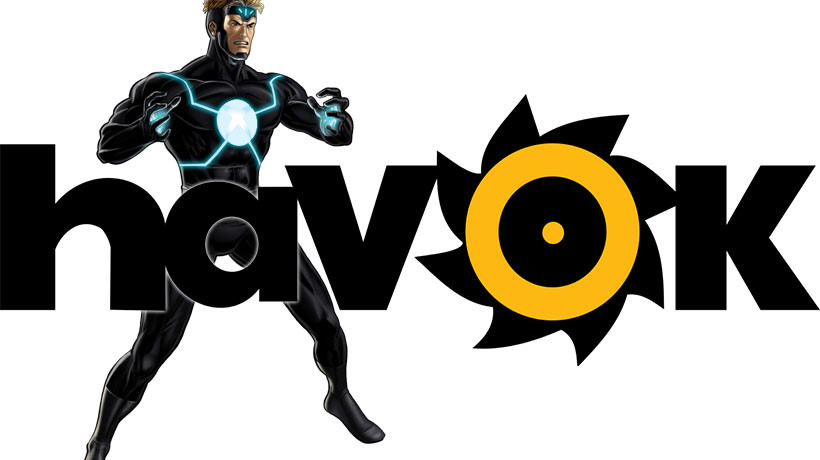 Havok is the premier middleware engine for doing physics calculations, adding ragdoll physics and physics-based destruction amongst many other elements to the games you play and love. Until recently, it was owned by Intel, who acquired the middleware from its creators. It's now got a new home: Microsoft.
Microsoft announced it had acquired the company last week. Don't worry though, that doesn't mean that Havok-based physics and destruction will be exclusive to Microsoft's platforms. As they've showed with their multiplatform Minecraft support, they're quite happy to licence things out.
"As we welcome Havok to the Microsoft family, we will continue to work with developers to create great gaming experiences, and continue to license Havok's development tools to partners. We believe that Havok is a fantastic addition to Microsoft's existing tools and platform components for developers, including DirectX 12, Visual Studio and Microsoft Azure.

Havok is an amazing technology supplier in the games industry and the leading real-time physics creator. We saw an opportunity to acquire Havok to deliver great experiences for our fans. Throughout the company's history, they've partnered with Activision, EA, Ubisoft, Nintendo, Sony, Microsoft and many others to create more than 600 games including Halo, Assassin's Creed, Call of Duty, Destiny, Dark Souls and The Elder Scrolls."
Havok is, of course, more than just a physics engine:
Havok Physics: It is designed primarily for video games, and allows for real-time collision and dynamics of rigid bodies in three dimensions. It provides multiple types of dynamic constraints between rigid bodies (e.g. for rag-doll physics), and has a highly optimized collision detection library. By using dynamical simulation, Havok Physics allows for more realistic virtual worlds in games.
Havok Animation Studio: Havok Animation Studio is formally known as Havok Behavior and Havok Animation. Havok Behavior is a runtime SDK for controlling game character animation at a high level using finite state machines. Havok Animation provides efficient playback and compression of character animations in games, and features such as inverse kinematics.
Havok Cloth: Released in 2008, Havok Cloth deals with efficient simulation of character garments and soft body dynamics.
Havok Destruction: Also released in 2008, Havok Destruction provides tools for creation of destructible and deformable rigid body environments.
Havok AI: In 2009, Havok released Havok AI, which provides advanced pathfinding capabilities for games. Havok AI provides navigation mesh generation, pathfinding and path following for video game environments.
Havok Script: Havok Script is a Lua-compatible virtual machine designed for video game development. It is shipped as part of the Havok Script Studio.
What does this mean for you the consumer in the end? Probably not a lot in the short term. Microsoft's ludicrous R&D budget will probably mean that Havok's capabilities grow faster, and its core technologies might appear in the company's games first before heading elsewhere. It'll be used to great effect in Crackdown 3, most likely.
Last Updated: October 5, 2015