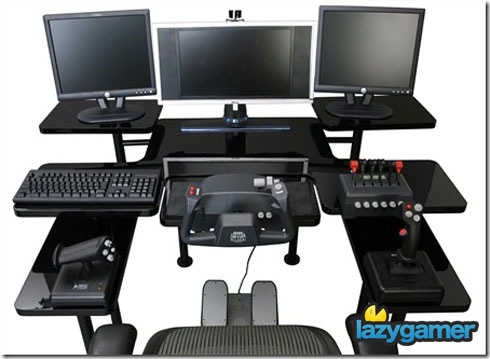 Once upon a time, says Rahul Sood; founder of Voodoo PC, Microsoft were actively planning on implementing cross-platform play to bridge the gap between their Xbox 360 and PC gamers. The idea was that people playing games that were available on both systems – like Unreal Tournament and Gears of War – would be able to have a go at each other.
Only it didn't work quite so well in testing. Why? SHCOK AND HORROR, it was found that Pc players would completely dominate their controller-toting brethren.
Not the least bit surprising, Microsoft found that even the best console gamers simply couldn't compete with the mouse-and-keyboard driven accuracy PC player benefit from. "The console players got destroyed every time", Rahul said. "So much so that it would be embarrassing to the XBOX team in general had Microsoft launched this initiative."
The only game to my knowledge that actually featured this sort of cross platform play was the ill-fated Shadowrun. It utilised assists for console players – but it dumbed down the PC control aspects to increase "fairness," resulting in a game that wasn't really fun for everyone. Still, I'd like to think it's an idea that should have been implemented and eventually honed – especially for games where speed and responsiveness aren't paramount to success, and for co-operative play.
Which is, funnily enough, something that will be happening with the Pc and PS3 versions of Portal 2.
Source : RahulSood (via Gizmodo)
Last Updated: July 22, 2010