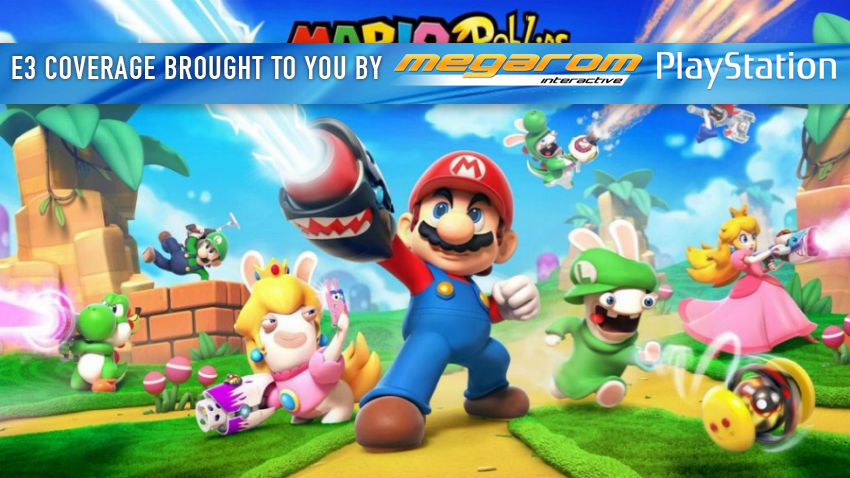 Miyamoto took to the stage with Yves to kick off the Ubisoft press conference in the best possible way. It's weird and hilarious, in the same way that we'd expect (or at least hope) Mario + Rabbids Kingdom Battle to be as well. Miyamoto was intrigued by Rabbids and excited to see the kind of humor they could bring to the Mario world. His instruction to the team? Don't make a platformer, make a Mario game we've never seen before.
Mario + Rabbids Kingdom Battle has been in development for years. A tactical adventure exclusive for Nintendo Switch.
The Rabbids have been teleported into Mario's world, making the kingdom totally unstable (as would be expected). Eventually Mario gets to know his Rabbid teammates, forming a dream team and saving the Mushroom Kingdom. Maybe.
Thanks to being a turn-based tactical game, you'll see characters move from exploration to combat modes. It seriously looks so much like XCOM, it's quite intriguing for strategy in a way I never would have expected from Mario or Rabbids. I have a feeling this will go a lot deeper than its cute and silly exterior would imply. I am way more impressed by the combat that I would have possibly imagined, and I think this will draw in fans of more hardcore gaming experiences.
Mario + Rabbids Kingdom Battle is coming exclusively to Nintendo Switch on 29 August 2017, which is way sooner than I would have thought.
Need more E3 in your life?
Check out our E3 2017 portal powered by Megarom Games and PlayStation
Last Updated: June 12, 2017