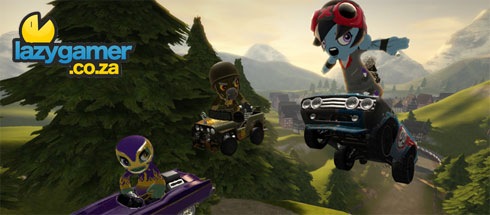 The US beta of Mario Kart-meets-LittleBigPlanet ModNation Racers ended this Sunday. Its character and car creation tools have already highlighted just how creative people can be, given the opportunity. If you weren't fortunate enough to get in on the beta using that sneaky US PSN account of yours, there is a second chance.
European territories will be getting their very own beta starting on 22 January – next week Friday if my dismal calendar skills haven't failed me again. Be warned though as it's a very limited beta, and getting in is going to require a bit of haste.
Details after the jump
From the EU Playstation Blog :
So how do you get hold of a place in the Beta?
Well just simply be one of the first to log on to the PSN store on Thursday 21st and download the Beta. Once Downloaded the fun will start when the lights turn green on Friday 22nd of January.

Is it free?
Well…. Ermmm…. Hmmmm…. How do I break this to you?
YES!

What happens if I'm the 100,001 person to get to the PSN store and try to download the Beta?
Sadly the tracks will be full of racers and you will be out of luck. The Beta will disappear in to PSN Store history vault.

What's in the beta?
If you're one of the lucky testers, you'll be given the opportunity to race on four premade tracks; two of which are exclusive to Europe as promised.

You can also enter the Creation Station and design your very own character, kart and an alpine themed race track, ready to share with other Beta Trial testers.

When does the fun end?
Sadly all good things do come to an end. The Mods will be melted down, the karts will be dragged to the pit stop and the tracks will be condemned on Valentines Day February 14th.

Will I be able to look at kart racing games the same again?
Dunno you tell us….

So get ready to start your engines, grab that controller, make sure your PS3 is hooked up to the net (and its working) and get downloading, creating and sharing!
We'll have to wait and see if the ZA PSN gets updated in time to take advantage of the beta – so it may be worth having a ninja UK account in case.
Last Updated: January 12, 2010