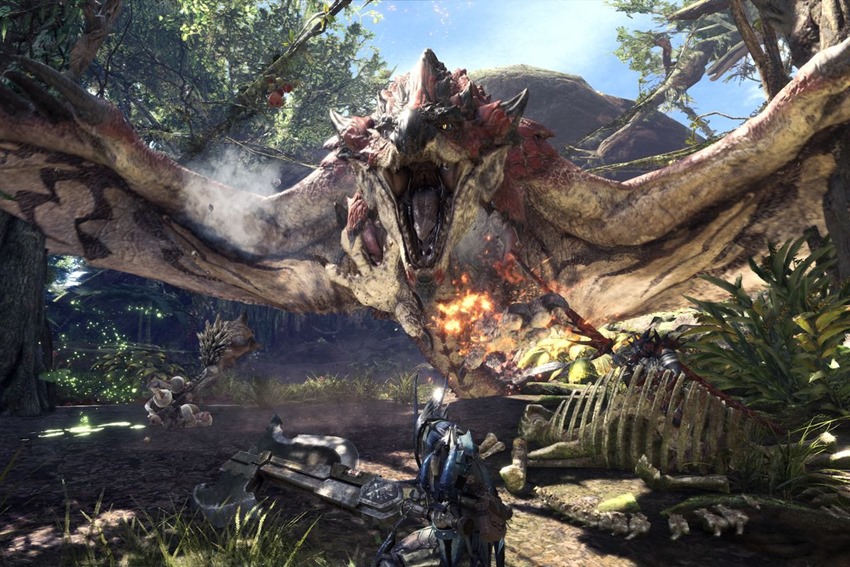 If Capcom wanted to start the day off on a good note, then here's a piece of good news that currently has the suits in company pouring champagne and making it rain with dollar bills: Monster Hunter World is doing well. Damn well. A few weeks into its life-cycle since launch, and not only is Capcom's game of cryptid-capturing doing well, it's setting new records for the publisher and developer as Monster Hunter World has proven to be a smash hit across the world.
"Capcom today announced that Monster Hunter: World for the PlayStation 4 computer entertainment system and Xbox One has shipped 7.5 million units worldwide (including digital download sales)," the company revealed in a press statement.
Monster Hunter: World is the latest entry in the series, and the first new Monster Hunter title for home consoles in nine years. It is also the first title in the series to be given a global simultaneous launch, and was given an ambitious worldwide promotional campaign in order to further build upon its fan base both in Japan and in markets overseas. As a result, Monster Hunter: World has overcome both linguistic and cultural barriers to delight approximately 7 million players worldwide, and has shipped 7.5 million units, making it the best-selling title in company history.
That's…that's not bad at all. Hell, that's Square Enix ludicrously-inflated sales expectations that is. While I'm still trying to make sense of just how many of those copies include actual game sales, seeing as how Capcom factored in digital sales to the final figure of retail units that were shipped to brick and mortar stores, it's still a fine figure to be happy about.
Especially when you realise that a PC version has yet to be released. Here's what Umar still had to say about Monster Hunter World when he reviewed it:
Monster Hunter World is an addictive, thrilling but ultimately satisfying experience. It's the perfect starting point for newcomers, but it also has all the depth that long-time fans enjoy, making this easily the best game in the series.
I don't just like video games that task you with harvesting dead monsters so that you can make leeeeather. I love video games that task you with harvesting dead monsters so that you can make leeeeather.
Last Updated: March 5, 2018