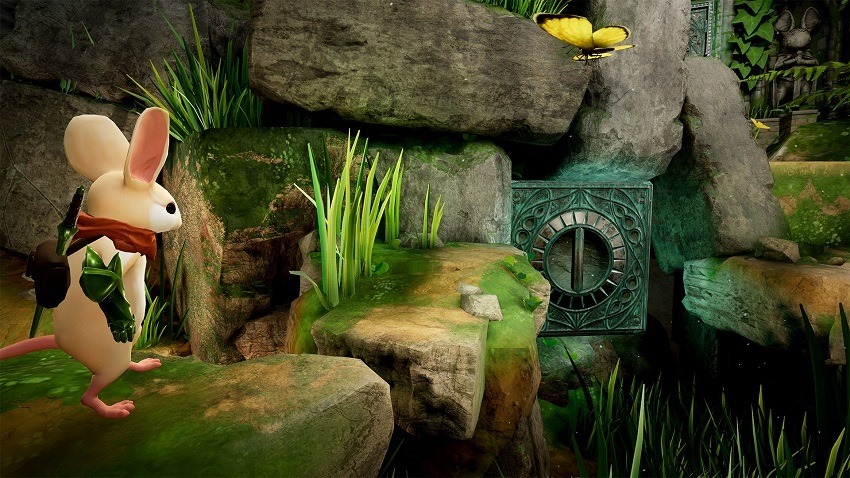 Moss was one of those blink and you might miss it games during Sony's E3 Showcase, especially if your brain switches off at the mention of PlayStation VR. It shouldn't have though, because the artistically appealing and cute mouse and his platforming adventure were one of the highlights of the show – displaying just how VR can help immerse you in an experience that doesn't need the motion of your entire body. But mice don't speak, and sometimes Quill will need to point you in the right direction. And for this, his animators are trying something quite novel.
Instead of simply letting Quill point or gesture to help guide you, Polyarc Games animation director Richard Lico wants Quill to be able to communicate with an entirely new audience. So he's set out to try and make Quill pretty proficient in sign language – understandably the most logical way for a mouse who can't speak to be able to communicate with players more reliably. Given that no one at Polyarc knows sign language, Lico tweeted out the following sample to get some feedback. And it looks pretty great.
Since she can only squeak, I figured I'd play around with ways she can communicate with the player. Also a great perk for our deaf players. pic.twitter.com/BAiPc8CUMO

— Richard Lico (@Foofinu) August 3, 2017
Lico explained that the studio is planning to implement broader gestures instead of spelling out words with Quill, given the size of the character and limitations of implementing a full animated language. Still he believes the effect is two-fold – both giving Quill a good way to communicate and being a big plus for potentially deaf players. Quill will still retain the same gestures for hints to puzzles that were seen at E3, but this neat extra isn't going to go unwelcomed.
It's curious to see some games approach communication is this way all of a sudden. Tacoma, which launched earlier this week, as some exceptional voice acting, but also feature sign language as part of its interactions. Protagonist Amy Ferrier uses signing to input letters and passwords into holographic keypads – a striking animation that never has its effect lost on you. It might not help deaf players understand the crux of the game, but it could be seen as a step towards that in the future.
Moss and its mouse protagonist Quill are certainly evidence of that.
Last Updated: August 4, 2017