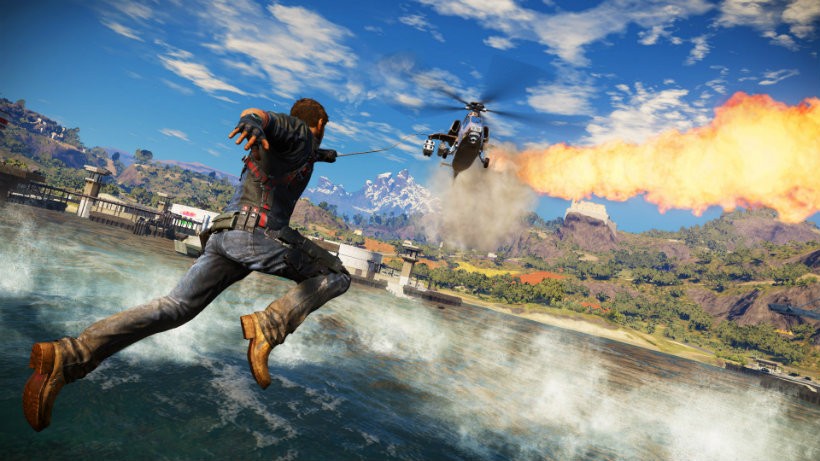 The explosion simulator known as Just Cause 3 is coming soon. From the 1st of December, you can explore the sandbox and blow up all the things. If you want to blow up things with friends, though, that's not an option at launch. But that doesn't mean it won't be added in later.
Speaking to GameSpot, game director Roland Lesterlin explained that Avalanche did look at adding a multiplayer mode to Just Cause 3:
We did talk about it a lot. The modding community even created a multiplayer mod for Just Cause 2 that was super fun, really cool. The same way that Just Cause 2 was known as a beautiful sandbox in a giant open world, and it surprised many people that consoles could even do that, we wanted to have that same experience… with updated physics and player mechanics, and concentrate first and foremost in the main player.

What we found was that a lot of players loved sharing videos of what they did. So we wanted to work on the asynchronous side of things. The challenges, ghost mode within leaderboards, being able to challenge your friends to beat feats you did in the world. Having these great PS4 Share feature and the Xbox upload feature, and Steam now has a spectator mode too. Having all these things in there feels perfect for a Just Cause game. It doesn't mean we wouldn't think about what to do with multiplayer in the future, but for this first time around we wanted to pour all our love and energy into a great single-player sandbox to start with.
I really like asynchronous multiplayer. Sure, it's not the same as running around with your friends in the moment, but it's cool to leave them challenges to try to beat in their own time. At least people can have some of the fun of multiplayer without coordinating schedules. That said, I'm glad to hear that they might still bring in multiplayer at a later date – the Just Case 2 multiplayer modes ended up making a ton of people happy and it would be nice for it to come from the developers this time around.
Last Updated: November 11, 2015