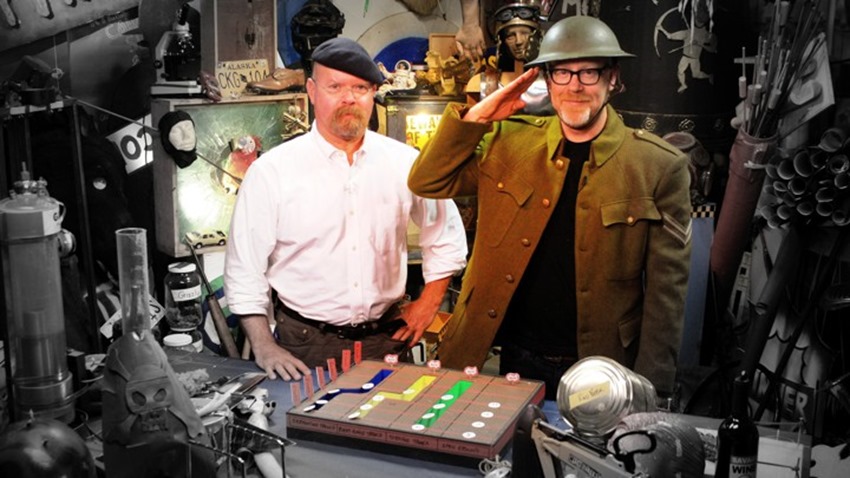 Yeah, science! If it wasn't for Mythbusters, I'd have probably never learnt vital science facts throughout my life. Like using a coffee creamer as a cannon or seeing scientific proof that having bigger breasts will earn you more tips in a restaurant. Man, these implants are going to pay for themselves in no time once I get back from a seedy Brazilian plastic surgery theatre and go back to work at Spur.
Mythbusters was, is and will always be a great way to learn a few handy science facts. Presented by Adam Savage, Jamie Hyneman, Tory Belleci, Kari Byron and Grant Imahara, the show often featured some of the most improbable myths possible and regularly debunked them. There was on occasion a grain of truth to some of the more outlandish tales that had been told over the years, as the Mythbusters team used a combination of science, ingenuity and madness to find the most plausible result possible.
That level of engineering was backed by an entire warehouse of gear and knowledge, the infamous M5 Industries. This was the location where many a myth was tested and then busted as the crew rigged up numerous devices for the purpose of testing. If you've ever wondered what it would be like to have your own warehouse full of tools with which you could debunk your own myths while coming dangerously close to removing your eyebrows, wonder no more.
A virtual version of M5 Industries will soon play host to a Mythbusters video game, which will have you testing many of the classic myths from the show and drawing your own scientific conclusions in the process. Like finding out if you can use salami as rocket fuel:
Let yourself feel the scientific madness! Use the simplest items or complex machines. Plan your myths in the workshop and then move to the testing ground where you can check the validity of your thesis. Experience the amazing effects of your hard work and interesting ideas.
Developer Byte Barrel says that you'll be able to craft simple and more complex machines with which to put science to the test, manage the warehouse location and build the myth-busting props yourself. It'll be out in the first half of 2020 on PC. Remember: Be careful and do try this at home. Now to see if there's any truth to the local myth in the office: If you recite three Liverpool jokes in front of a mirror, Gavin will appear and fire your ass.
Last Updated: May 22, 2019