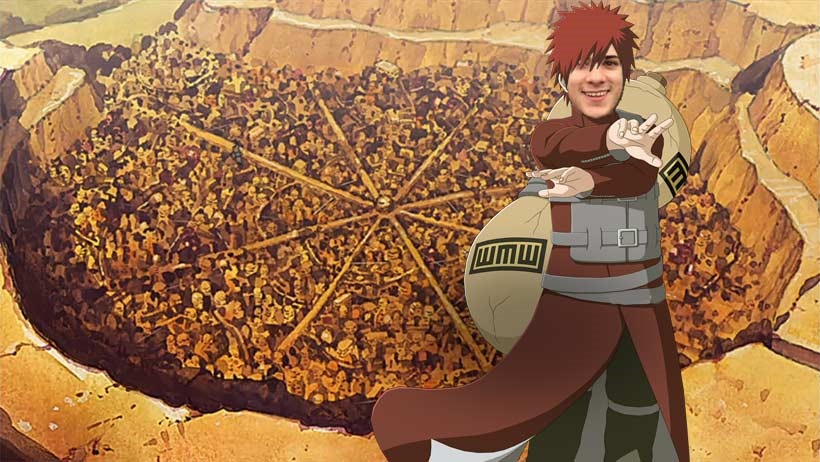 Naruto Shippuden: Ultimate Ninja Storm 4's tweaked combat may not be too dissimilar from previous instalments, but it's the kind of game that absolutely excels in art of storytelling. Emphasis on the art of course, because that absurd tale of ninjas and world-ending mind-control trees may be downright bonkers, but it's a beautiful kind of bonkers to watch unfold.
Naruto is of course the titular star of the show, but he's not the only memorable character around. Over the years, there's been emo whatsisname, pink-haired pal, bushy eyebrows Bruce Lee and red-eyes older brother dude. Don;t worry, their names are on the tip of my tongue. One of the more intriguing characters for reals though, has been Gaara.
In many ways, he was the polar opposite of Naruto, a fellow outcast who was shunned because of the inconvenient fact that he happened to have a gigantic sand demon sealed away inside of him. Proper dark side when he was first introduced (licking lips suggestively is always a sign of evil in anime), Gaara would be one of the many characters who found redemption eventually. And a new DLC pack as well apparently. Here's your first look at his particular slice of story, dubbed "Bonds of the Sandy Sea":
According to Bandai Namco, players will receive the story pack, various costumes, secret techniques and ninja treasures in this DLC release. Naturally, it isn't free because even a fully-awakened Sharingan can't convince studios to hand out free story content. It'll set you back $9.99 next month on the twelfth, or you can grab it for a few dollars more no jutsu with the season pass.
Last Updated: March 29, 2016