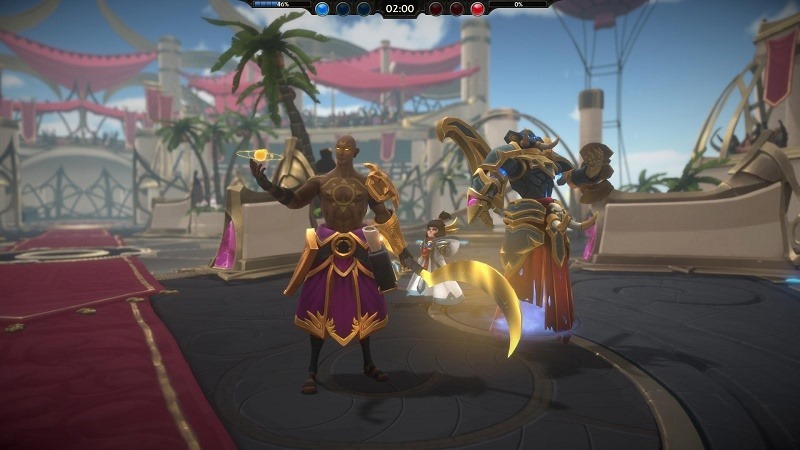 The number of MOBAs on the market has swelled quite a bit over the past couple of years. Based on the success of others, every second developer thought it'd be a good idea to tackle the genre (all at the same time too it felt like), but unfortunately, they've all essentially fallen short. Let's just say that it's kind of impossible to take on the likes of Dota 2, League of Legends, Heroes of the Storm, Smite, and other select few titles.
Did that stop Swedish company Stunlock Studios from tackling the seemingly impossible task though? No. They've come out with a new early access MOBA called Battlerite, and it looks like its well on the way to success. It's doing some proper magic over on Steam (via Polygon).
But before we get to that, let's see what the game is all about. Here's its premise, along with a gameplay trailer…
Battlerite is a PvP team arena brawler and the spiritual successor to critically acclaimed Bloodline Champions. Experience the unique combination of a top down shooter with a fast paced fighting game. Take part in highly competitive, adrenaline-fueled 2v2 and 3v3 battles.

Engage in quick and intense action as you take control over one of several champions, each with their own special abilities. Dodge bullets and pull off massive ultimate attacks with the use of unique WASD movement & cursor based aiming. It's all about skill-shots, timing and reaction.
According to SteamSpy, Battlerite has sold 25 000 copies (as of today, the 23rd of September). That doesn't sound like much, but consider for a moment that just three days ago, when the game first hit early access, it only sold around 5000 copies.
That number has spiked significantly because Battlerite has popped up on the Steam Top Seller list. People are discovering the MOBA thanks largely to that, and they're all flocking to play it in droves now.
They're all loving it too, if the Steam customer reviews are anything to go by. At time of writing there are 1600 positive pieces, as opposed to just 55 negative ones. That really is quite impressive!
I've long left my MOBA days behind. I must admit though, Battlerite does look like a lot of fun. I'd cite lack of time as an excuse not to play it, but apparently each bout lasts just 15 minutes. How can I say no?
What about you? Does Battlerite appeal to you in any way? If so, getting into the early access will cost you just short of R200.
Last Updated: September 24, 2016