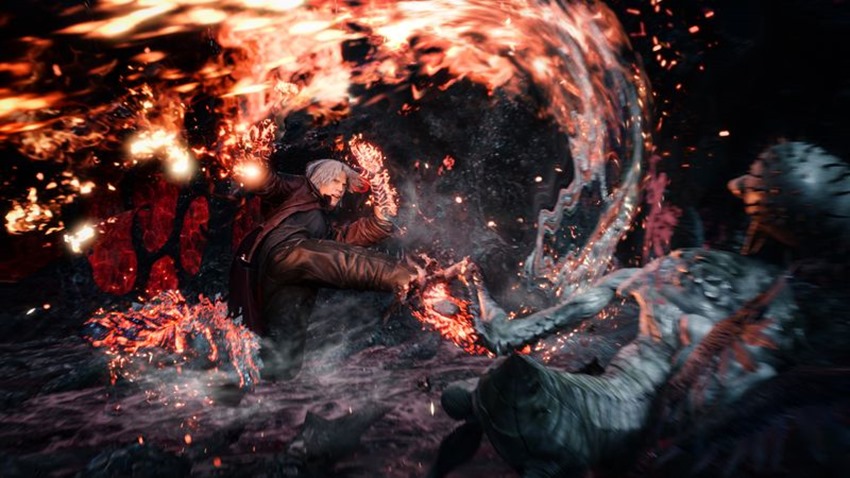 Nero may be the best character in the Devil May Cry series (fight me, fanboys), but there's still a lot of love out there for the original slayer of demons, Dante. After all, it was the son of Sparda who graced the covers of a trio of Devil May Cry games, showcasing a talent for weapons and a healing factor that would make Deadpool jealous as he plied his trade against the monsters of the underworld.
Devil May Cry 3 introduced the template for how Dante would play in the years to come, granting the talented maverick a series of styles which could complement the tactics of any player and further augmenting those abilities with an array of wild weapons. Has that idea survived and been refined in Devil May Cry 5? You bet your Ebony and Ivory handguns he does, bub:
While it remains to be seen which new weapons Dante will have to wield, the trailer above already shows off a stupidly cool new toy in his arsenal: An actual functioning motorcycle that can split apart to form two massive bladed weapons. Holy hell, I'm in love. Beyond that, it looks like classic Dante in the footage, as he still has his signature guns, Rebellion sword and a cocky attitude that's as sharp as his blades.
That's not the only new Devil May Cry 5 news however! First up, it looks like the third protagonist in the game finally has a name. Guess what tinfoil hat fans, it's not Urizen, but…V. Capcom didn't spill any details on the fella other than him happening to be a client of Devil May Cry's in-game demon-hunting service and having a habit of speaking poetic verse, but more details on the fresh face will be revealed soon.
On the marketing side of the game, Capcom is looking to leverage some nostalgia to get the pre-orders in for Devil May Cry 5 as anyone purchasing the deluxe edition of the game will get to wield Mega Man's Mega Buster Cannon when playing as Nero. According to Capcom, the deluxe edition will also include Devil Breakers such as Sweet Surrender which can "relieve tension" with its hectic vibrations (giggle) and the Pasta Breaker, which can easily give you an S-Rank in chomping down on some pasta. It's not really great for battle though.
Looking good! Devil May Cry 5 is out on March 8 for PC, PS4 and Xbox One. It's about damn time as well.
Last Updated: September 20, 2018