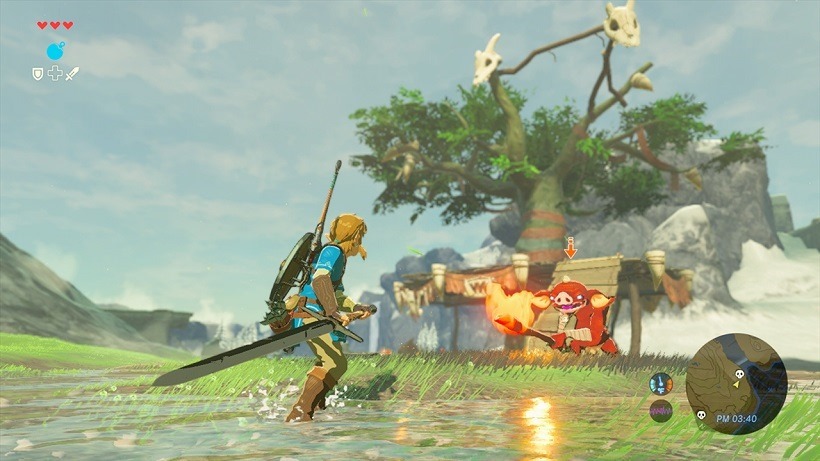 The Legend of Zelda: Breath of the Wild has always appealed to me from an aesthetics level. The colourful representation of this new world in a delectable cell-shaded styled has given Breath of the Wild a distinct look like some of the best in the series (Wind Waker say what), and it's the perfect way to ensure that its appearance stands the test of time. But even rationalising that doesn't really prepare for just how jaw-dropping the latest footage released during the Game Awards really was.
Devoid of anything really aside from that, the whole new minute and a bit of gameplay show this new version of Link exploring a new version of lands that are both familiar and new. There's a little more combat with those robotic spider things that were a part of the game's very first trailer, along with glimpse of who we can only assume is Zelda herself. Start to finish the entire thing is just stunning – making the extra wait time worth it.
Later on in the show Nintendo treated everyone to something a little more substantial, with a longer look at some brand new gameplay from a new area in the game. You'll see a little more of the survival styled elements that Breath of the Wild is introducing, including food, breakable weapons and more.
The Legend of Zelda: Breath of the Wild is confirmed for both the Wii U and Nintendo's recently announced hybrid, the Switch. A release date is still proving too elusive for Nintendo to nail down, but recent rumours have suggested that the adventure title will likely not launch in March with the Switch. The current estimate puts the game around June, which still feels agonisingly far way for a game we've been waiting years for now.
Either way though, there's little to suggest that Zelda fans everywhere are waiting for a dud of an entry. Breath of the Wild was one of the best games I played at E3 last year, and I'm desperately clamouring at the chance to sink my teeth into it properly.
Last Updated: December 2, 2016