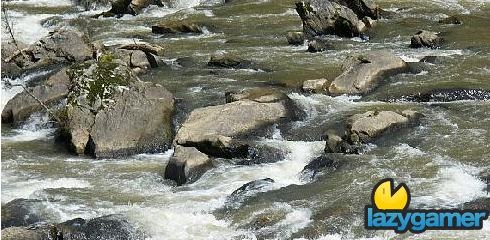 Filmmaker James Gunn, who I have personally never heard off, has been given a tour around Microsoft offices to check out the next latest and greatest gadgets coming out of Microsoft.
While there they got to mess around with the touch screen tables, the upcoming Microsoft tablet PC (Courier), the next Zune, 3D gaming in the shape of Age of Empires, Halo Reach and Project Natal.
Actually in one foul swoop Mr Gunn has appeared to confirm every rumour that has been floating around Microsoft in recent times.
Most importantly for us gamer types is his confirmation of a new Project Natal game called River Rush.
All the hardcore gamers can now groan in disgust as the game involves two of you standing on a raft and then jumping up to slap stars while stepping right and left to avoid obstacles.
Mini game heaven I guess… anyway he also made a really strange comment
"I honestly wouldn't be surprised if in a few years we see a decrease in childhood obesity simply because of the system."
Now I think that may be pushing it a bit far but if it helps keep kids exercising then I am all for it… however I can see now that I need to move my TV into a bigger room to protect the lounge… and kids.
Source: JamesGunn
Last Updated: April 19, 2010