If Superman was bored, broke and bald, he'd probably the titular One Punch Man whose overwhelming power has led to nothing but sadness for an individual whose strength is simply too much. After all, what's the point of unlimited power if you can't ever challenge yourself? While that theme may lay at the very heart of the smash-hit manga series and its anime adaption, it also presents a wider problem for One Punch Man as he heads into video game territory.
How do you even take a character with godlike power, do him justice and still craft a game that gives players a sufficient challenge? The answer is actually surprisingly simple: You barely use him at all. Bandai Namco dropped a new trailer for One Punch Man: A Hero Nobody Knows and in it was a brilliant slice of game ingenuity that balances both the massive roster of characters within the universe of singular pugilism with the overwhelming might of the caped baldy.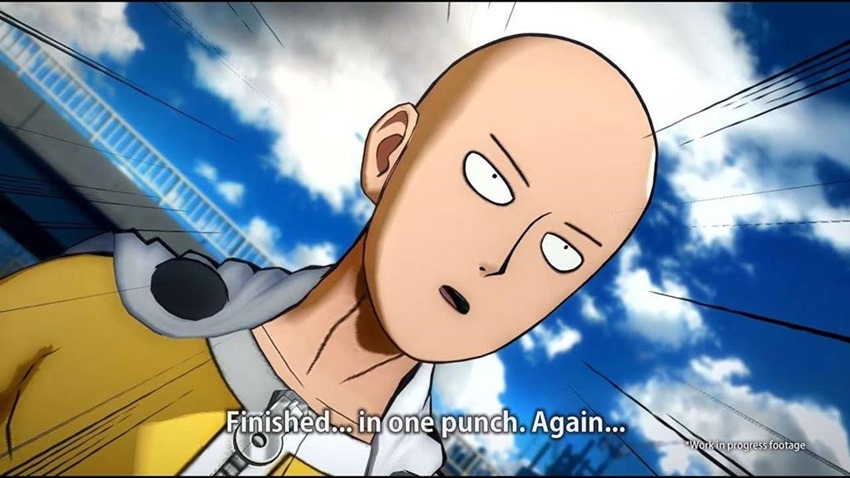 Here's how it works: Players engage in combat using one of several characters such as Totally Over the Age of 18 Psychic Girl Who Isn't Lolicon Bait Nice Try FBI, Japanese Chuck Norris or Guy On a Bicycle to take on extinction-level event monsters. One Punch Man himself is on the way to the scene, but it's up to you to use the hero you've got to survive long enough against a monstrous foe.
Nail some combos, parry an attack and you'll speed up the Hero Arrival mechanic which allows for Saitama to arrive in the nick of time. Once there, he'll take over and provide a single blow that wipes out the foe. Simple. It's definitely a novel way to bring the best aspects of the manga into a playable format. Will it be appealing enough to justify its price tag?
Hell if I know, but at least this game knows exactly what kind of power fantasy it wants to be. There's no proper release date yet for One Punch Man: A Hero Nobody Knows, but it'll be out eventually on PC, PlayStation 4 and Xbox One. Hopefully with the one enemy that not even Saitama can match: A pesky mosquito.
Last Updated: August 21, 2019