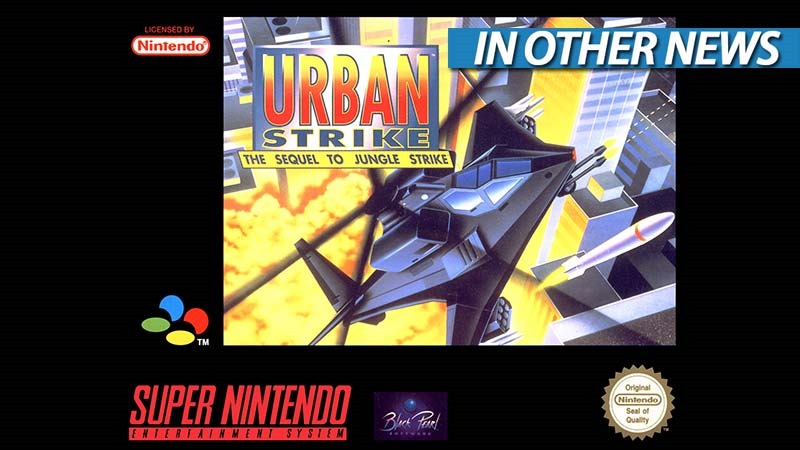 There's something unbelievably sexy about military vehicles. But military attack helicopters? Man, I get a proper rush of blood to the head to see these modern miracles of engineering up close. The Strike series is what got me hooked onto American air superiority. Desert, Jungle, Urban and Nuclear versions of this game somehow managed to mix the magic of tight action with some savvy conservation of fuel, ammo and armour.
The resulting combination was magical, with Urban Strike easily being the finest hour of this series. That opening mission where you're assaulting a beach, taking out killer submarines and rescuing people from a watery shark-infested grave? Pure magic. In fact, I think I might go plug the game into my Sega Megadrive, start the TV, take the game out, blow on it and retry my luck at saving the day.
In Other News: Gravity Rush 2 is looking gorgeous, Twitch suffers a Shaq attack and FIFA 17 is selling out in the UK.
Here's the news that we didn't post today, because I was too busy scared that the youth were going wild.
News
This Gravity Rush 2 footage looks utterly gorgeous
Twitch Prime announced, offers ad-free viewing, monthly gamer loot, and more
The Coalition is revoking some illegitimately obtained Gears of War 4 keys
Rhythm action game Thumper out next week
Gears of War 4 gets another two Xbox One S bundles
FIFA 17 delivers best UK Week One for the football series
Sunless Sea writer announces new digital board game, Cultist Simulator
HTC's Vive software portal goes live
Stuff
Shaq shows up on Twitch, kisses pro players
How Japan's best-loved RPG is bringing structure to those paralysed by choice
Counter-Strike pro clutches round by throwing his gun
Gameboy wonder – the miniature epics of Daniel Linssen
Videos
What's on at The Movies
Monday Box Office Report – MISS PEREGRINE makes a peculiar amount of money
What you hear in this IMAX trailer for JACK REACHER: NEVER GO BACK is excitement
The first trailer for PIRATES OF THE CARIBBEAN: DEAD MEN TELL NO TALES has sailed in!
This trailer for THE TRUE MEMOIRS OF AN INTERNATIONAL ASSASSIN makes me want to pop someone's knuckle
We review ABSOLUTELY FABULOUS – campy hit-and-miss nonsense for fans
Planned HOT WHEELS film lands Justin Lin as director
Last Updated: October 3, 2016