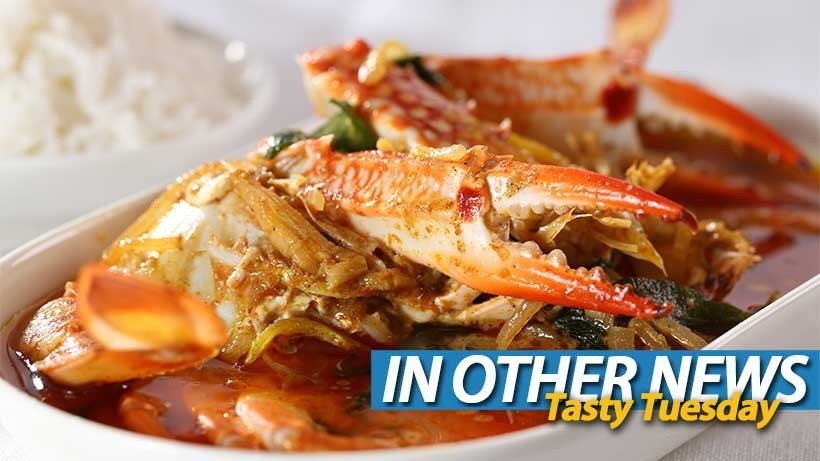 I don't really enjoy food eating food that requires me to take a shower afterwards. It's why I'm not particularly fond of ribs, because I have no real co-ordination, so I inevitably end up plastering my face with barbecue sauce. I hate that. And I generally hate being dirty and covered in remnant of dinner – but despite that, despite hating eating foods that require a bib, I just can't say no to a good crab.
Whether it's done, as the Chinese like it – steamed with some ginger, garlic and spring-onion, A Thai Crab curry, or as a Mozambican-styled Caril de Caranguejo, there's just something about a well-cooked crab that I can't refuse. No matter how messy it may make me, and how much of a fight it is to get to the actual meat, it's hard to turn a good crab down.
In Other News – Steam Sales may not be so steamy, GTA Mod looks like hyper life, celebrate the end of Namco's minigame patent and play XCOM in XCEL.
Here's the news we didn't post because we were too busy giving our plants Brawndo: The Thirst Multilator. It's got what plants crave!
News
Star Wars Battlefront patch brings Battle of Jakku DLC support, balance changes
Steam Spy accuses devs of raising game prices ahead of Steam sale
Destiny's first raid challenge is now live
Just Flight becomes independent of Mastertronic
Monster Hunter X has outsold Monster Hunter 4G in less than a week on the Japanese eShop
Grand Theft Auto 5 modding project wants to make Los Santos like real life
It's burgers vs. pizza in the newest Splatoon Splatfest
Loading Screen Jam celebrates the end of Namco's dumb minigame patent
Stuff
Scrappy Jedi have seen better days
Four awful realities of binge-playing all the Falout games
XCOM recreated…in Excel
Xbox 360 at 10: Conquering Crackdown's Pacific City
What's on at The Movies
Director Adam McKay wants ANCHORMAN III vs the Internet
Christopher McQuarrie returns to helm MISSION: IMPOSSIBLE 6
The script for Shane Black's "genius" PREDATOR sequel is done
There's something different going on in this trailer for BARBERSHOP: THE NEXT CUT
Watch new footage for BATMAN V SUPERMAN here!
Last Updated: December 1, 2015