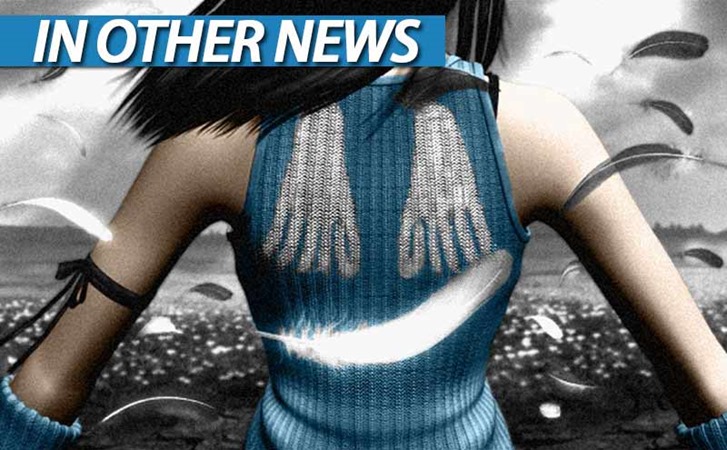 Something a little bit different today. I usually wax on about retro video games, but I'm also a complete sucker for fan theories. And we all know just how much I love Final Fantasy 8. Hell, one of my pets was named after Griever, the titanic Guardian Force. Now on the surface, Final Fantasy 8 has a story about love and time travel. Fairly standard stuff, with a random villain appearing later on to vex you.
But there's a magnificent fan theory out there, that makes the appearance of Ultimecia that much more tragic (Thanks Daniel!). A theory that ties up loose ends and plot holes and makes perfect sense. It's written about in great detail here, but the gist of it is that Ultimecia is in fact Rinoa. A rinoa driven mad by her powers and grief, to the point where her love for Squall helped survive a world that persecutes Sorceresses.
It's mind-bending stuff, that elevates Final Fantasy 8's story into a grand and tragic romance that spans all of time. I…I think I have a lump in my throat just thinking about the deeper implications here. Sniff. And it certainly sounds far better than the "Squall is dead" theory. Now I know that the creative forces behind Final Fantasy 8 have debunked this theory. But in the wise words of Adam Savage: I reject your reality and substitute my own.
In Other News: Nintendo goes full nostalgia with a manual link to the past, the Wii U is dead Jim and Dishonored 2 is pure vindictive glee.
Here's the news that we didn't post today, because we were too busy trying not to cry whenever we heard Eyes On Me. Sniff.
News
Nintendo unleashes more nostalgia with NES Classic manuals
Mass Effect: Andromeda protag goes class free, the Nomad has no guns and you have to scan things all the time
Nintendo confirms end of Wii U production
Mafia 3 has a patch available and 11 new outfits to wear while strutting around New Bordeaux
Heroes of the Storm designer invites the community to help design a Deckard Cain character
Hitman developer IO opens new studio
Rainbow Six Siege: Operation Red Crow DLC comes to season pass holders next week
A NES Classic controller extension lead is in the works
Stuff
A fascinating study on Destiny player behaviour
Three hours in and Dishonored 2 remains a gleeful laboratory of vindictiveness
GTA V helicopter vs 100 people
Project Wight is an open-world Viking RPG where you play as the monster
Videos
What's on at The Movies
Jackie Chan is China's greatest archeologist in this trailer for KUNG FU YOGA
Ezra Miller discusses THE FLASH director departures
We review ARRIVAL – A near perfect science fiction film
This first trailer for VALERIAN makes me cry!
Author Irvine Welsh could expand his TRAINSPOTTING universe to TV
Last Updated: November 11, 2016