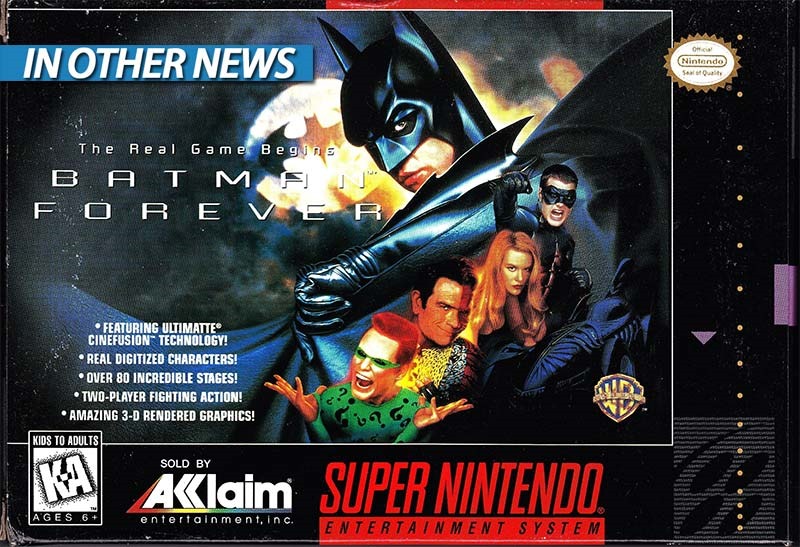 Believe it or not, but not every Batman game ever made is actually worth a few hours of your time. Back in 1995, Warner Bros. had just released Batman Forever. A film which I still adore with all my heart because I thought Val Kilmer was fantastic and the Pather batsuit (nipples and all) is still one of the best costumes ever worn by the dark knight.
To go with the release of that film, came a Batman Forever game on the SNES, Megadrive and PC. And well it wasn't very good at all. To say that Batman Forever was Arkham Kombat, would be a nice way to describe the gameplay. But that's what it was. A carbon copy of Mortal Kombat, players navigated their way through gangs of inmates and used a very familiar combat system to take them out of the equation.
And I kinda dug that. It's most likely where my obsession with the power fantasty began, but Batman Forever was a guilty pleasure that I adored. Just like the movie source material.
In Other News: Tyranny has a release date, Dark Souls has a triple-threat on the horizon and the best damn Genji cosplay you've ever seen.
Here's the news that we didn't post today, because we were too busy de-colonising science.
News
Tyranny, Obsidian's PC RPG about what happens after the bad guys win, has a release date
What secrets does the BlizzCon 2016 schedule have in store?
Sony to reveal new mobile games based on popular PlayStation series this year – report
Battlefield 1 features one of the smallest guns in the history of guns
Virginia TV show or film would make 'complete sense', says developer
Resident Evil 7's 'Kitchen' demo is out now on PlayStation VR
The Steam controller has almost hit the one million units sold mark
Peek at Dark Souls III's upcoming three-on-three PvP
Stuff
Inside Japan's Persona 5 cafe
Face-Off: Rise of the Tomb Raider on PS4
Damn, this Overwatch cosplay
PlayStation VR hasn't tamed VR's strangeness
Videos
What's on at The Movies
This new international trailer for DOCTOR STRANGE has been looking for you
Movies out today: 14 October 2016
Disney looks at DON QUIXOTE to be its next PIRATES, probably ruining it
SUPERGIRL's James Olsen gets his own super-suit as Guardian
No one can crush criminal cranium like this trailer for OFFICER DOWNE
Last Updated: October 14, 2016