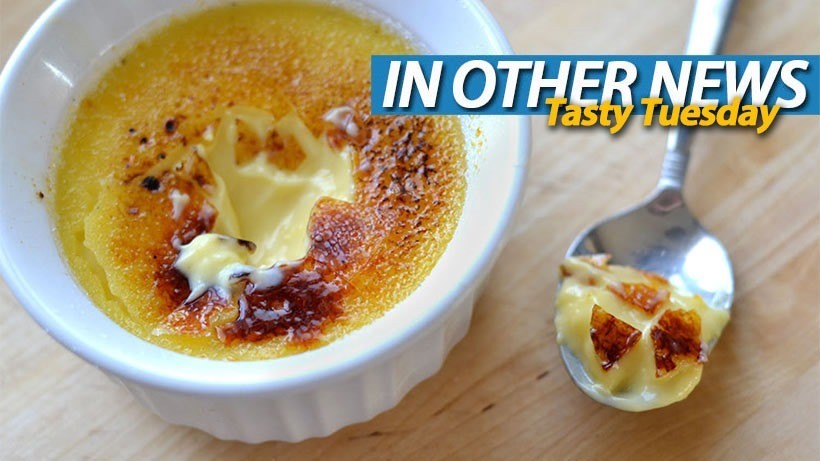 I've said before that I'm not particularly fond of desserts – especially when there's so much sugar in them that they leave a ghastly, cloying scratch at the back of your throat. I do love a great Gelato, and of course a panna cotta, but there's one dessert I'm incapable of saying no to (and really, I've tried!) is a Crème Brulee.
Yes, it's really just a fancy creamy custard, topped with a crisp – but importantly thin – layer of caramel. Done right, with the right balance of vanilla, it's the perfect end to just about any meal. That first spoonful? The one where you crack the sugary surface? That's magical.
In other news: The aged keep using the middle mouse button in a new PSN deal, Rain Tombs on PC in January, Ghost in the Shell comes out of its shell and the dinosaur hunter returns.
Here's the news we didn't post because we were busy trying to appoint a minister of formal Formicidae. Yup, we need a new minister of fine ants.
News
EU PSN's 12 deals of Christmas sale: The Elder Scrolls Online: Tamriel Unlimited
Rise of the Tomb Raider for PC is releasing in January, apparently
That "I can't feel my face" song is in this week's Rock Band 4 DLC
Rainbow Six: Siege may get a Hardcore playlist in 2016
Night Dive's Turok re-release hits PC this week
Star Citizen smashes $100m in crowdfunding
Play class-based Ghost in the Shell shooter now on early access
Stuff
The evolution of Final Fantasy 7
Beautiful maps of fake places
What keeps modders modding?
Hoth In video games: A 30-year battle
Videos
Pokkén Tournament Wii U Version Introduction Trailer
Turok Remaster Trailer
Rez Infinite Debut Trailer (Direct Feed) ~ PlayStation VR
Last Updated: December 15, 2015