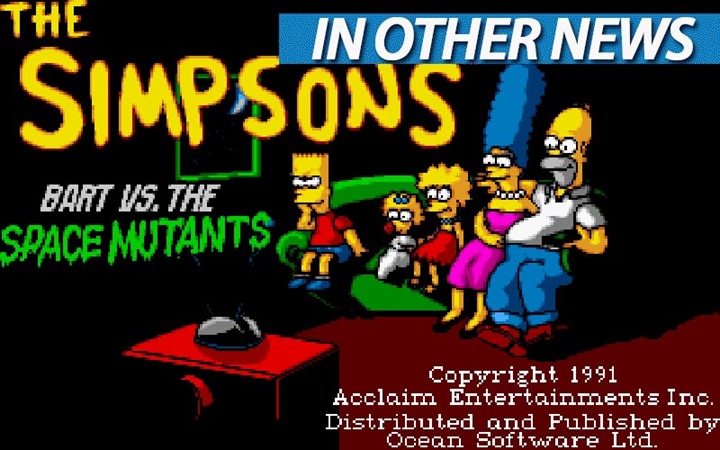 You might not believe this, but the world used to love The Simpsons. Back in the 1990s, The Simpsons were smart, funny and heartwarming to watch on TV. Basically the opposite of what they are now as I'd rather gouge my eyes out with an N64 controller than watch the utter trainwreck that the show has become over the last decade and a half.
Anyway, popular TV show meant tons of merchandising. While everyone was keen to do the Bart-Man, video game developers wanted in on that action. One of the very best Simpson's games? Bart vs. The Space Mutants back on the NES days. Now confession: I never ever made it past the first level. And that's because as a kid, that level was brilliant. A downtown slice of Springfield, that gave you the chance to wreak havoc, spot aliens and prank call Moe's Tavern?
Now that was genius game design that had zero cows, maaaaaaaaan.
In Other News: Fallout 4 is going pro soon, Dishonored 2 starts patching things up and maybe it's time to kill a genre.
Here's the news that we didn't post today, because we were too busy phoning Moe's Tavern to see if Hugh Jazz was around.
News
Fallout 4 PS4 Pro support coming in next patch
Dishonored 2 beta patch "begins the process" of improving performance
The Division Survival DLC and free 1.5 patch dated, new guns and gear incoming
Ubisoft is moving away from narrative-driven experiences
Civilization VI's fall update has a lot of changes
Vive and Oculus Rift sales predicted to hit 770k by year end
Multiplayer in Batman: Arkham Origins will only exist for a couple more weeks
Game Awards will encourage developer transparency thanks to No Man's Sky
Stuff
FIFA 17 glitches are even better in real life
Why are some PS4 Pro titles running slower than base hardware?
Watch Dogs 2's NPCs are a constant source of joy
Time to kill genre?
Videos
What's on at The Movies
DON'T BREATHE sequel has the 'greatest idea ever'
Video: First impressions of Fantastic Beasts and Where to Find Them
Gavin O'Connor to direct "baddest badass" GREEN HORNET remake
THE LAST OF US movie development has stalled
The STARGATE reboot is failing to lock its last chevron
This first trailer for HIDDEN FIGURES demands an immediate response
Last Updated: November 18, 2016