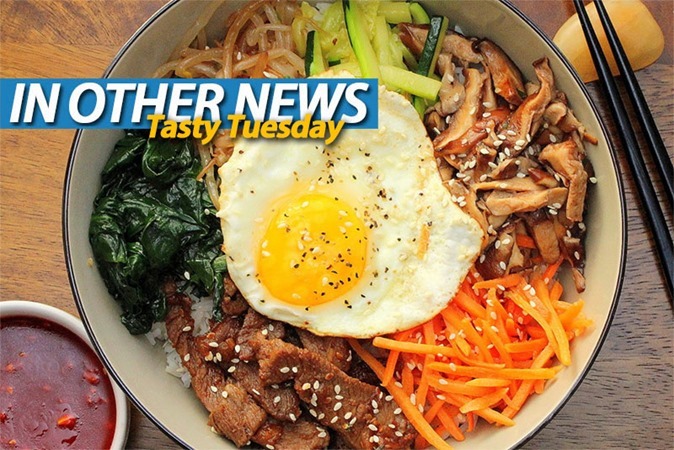 Simple is good, but sometimes, complex flavours can stem from simple ingredients. One of the most delicious things on this planet is a Korean staple. It's a bowl of rice with stuff at its core, but that stuff comes together to create the most wonderful and complex flavours. Bibimbap is rice, topped with vegetables, meat (typically beef) and capped with a fried egg. It gets mixed up with gochujang, a spicy, fermented chilli paste that's bursting with flavour – a bit like a fiery miso. Because of the bowl that's used and how it's heated, the rice itself crisps up in a layer at the bottom, creating a nutty toasted flavour that – together with everything else – is out of this world.
In Other News: Banned player loot gets sold off in Runescape, GTA V Redux rips off code, Elite Dangerous drops old timey support and Stranger Things gets the SNES treatment.
Here's the news we didn't post because we were too busy being happy to have internet back.
News
Nioh: New gameplay from TGS features spider yokai boss. Plus results from the beta are in
Jagex to sell banned Runescape players' loot in blind auctions
GTA 5 modder says glorious Redux suite rips off VisualV code
This year's iPhone tech controversy is… hissing
Fixes are coming for BioShock Remastered on PC
Star Wars: Battlefront 3 "Training Mission" gameplay appears on YouTube
The new NieR game will let you fight enemies Automata-cally
Elite: Dangerous is dropping Win32 and DirectX 10 support
Stuff
Stranger Things and Game of Thrones get the SNES treatment
How Final Fantasy XV's heroine has changed since last year
Gears of War 4's campaign feels like an Epic revival
That time Space Ghost gave Peter Molyneux shit at E3
Videos
What's on at The Movies
This trailer of BIRTH OF THE DRAGON knows no limits, but probably should
Chloe Grace Moretz has dropped out of THE LITTLE MERMAID and all future roles
This stylish trailer for NOCTURNAL ANIMALS doesn't sleep
Ed Helms and Owen Wilson are BASTARDS in this first trailer for the R-rated comedy
This trailer for RATS is evolving 10 times faster than humans
Last Updated: September 20, 2016