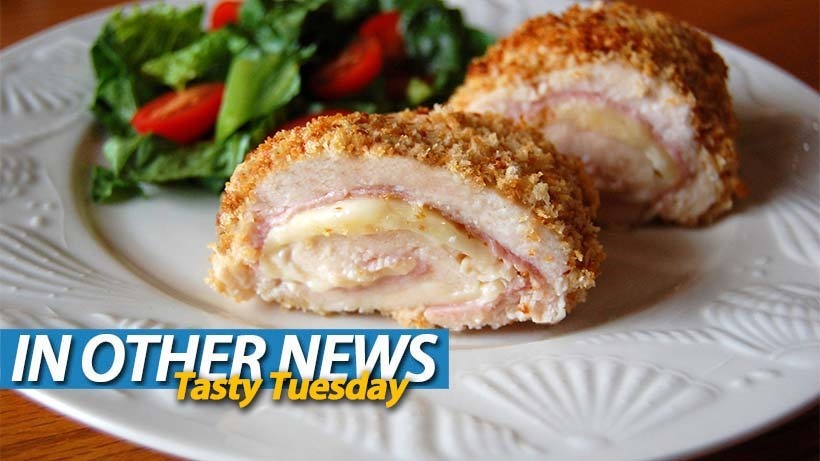 Growing up, one of my very favourite dishes was – like many of my favourite dishes, really – an incredibly popular staple on restaurant menus in the 70's and 80s. It's still something you'll find in places that have failed to move with the times, huddled somewhere on the menu with Canard à l'Orange and Crepe Suzettes.
While it's fallen out of favour, it's still bloody delicious, and still one of my favourite things to eat. Chicken or Veal Cordon Bleu, a schnitzel wrapped up, stuffed with ham and cheese, and then breaded and fried. It's really just a fancy ham and cheese sandwich using chicken as the bread – but that's ok.
In Other News – Xbox Live's been Xbox Dead, You can watch Yo-Kai watch in April, PES needs more teams dispensed and hug a Kojima.
Here's the news we didn't post because it's a wigwam and a teepee.
News
Touhou shooter coming to PS4 in the West this summer
The Black Death is a grim survival game set in medieval times
MLB The Show 16 is out in March, here's the first screens
Stellaris dev diary explains Alliances and Federations
Destiny weekly reset for February 23 – Court of Oryx, Nightfall, Prison of Elders changes detailed
Yo-Kai Watch launching on 3DS this April
Xbox Live is down, for the eighth time in as many days
PES's Euro 2016 DLC lacks some licensed teams
Stuff
Family Sharing: Steam's amazing, often forgotten feature
Hideo Kojima hug pillows exist
13 years ago I was held at gunpoint, kidnapped and shoved into the boot of my car
Shadow of the colossal robot
Videos
What's on at The Movies
The TAKEN television series casts a viking as its lead
Stephen King's IT reboot likely to be R-rated and split into two movies
We review ROOM – A film that deserves room in your schedule
This first trailer for KINDERGARTEN COP 2 isn't what I expected
JUSTICE LEAGUE to start production in April; first look at Flash costume revealed!
Things are not as they seem in this trailer for THE SEA OF TREES
Last Updated: February 23, 2016