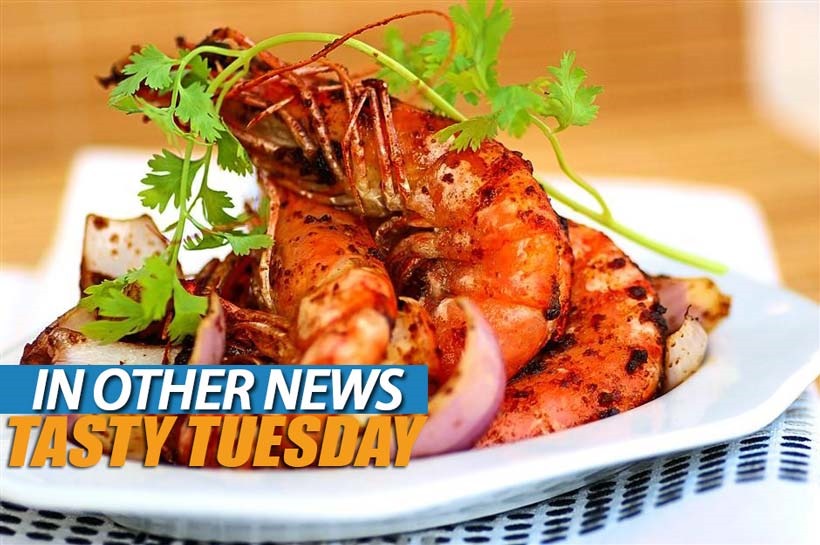 As soon as Geoff's power went down, so did the good taste in this joint. Because I'm doing Tasty Tuesday today. And honestly, what's better than some hardcore prawn? Honestly, as long it doesn't include tuna, I adore seafood. And prawns are the best. You can have them in a prawn curry, slow cook them in a pot, redrown them in a lemon and herb sauce.
Personally, I love me some cajun-fried prawns that have a bite to them thanks to some zesty spices. Hell, I don't even bother ripping their warm flesh out of the shell. I consider that extra-tasty and crunchy DLC for the mouth. Man, I love prawns.
In Other News: Disney, it's time to sell Monkey Island, MineCraft signs a deal with the Chinese, how PC is shaping the future of SEGA and Xavier Woods perfects the HADOUKEN!
Here's the news that we didn't post today, because we were too busy disagreeing over which Bond was the worst.
News
Monkey Island and Maniac Mansion creator wants to buy IPs from Disney
Overwatch's hit sound effect is apparently powered by beer
Overwatch gets new Nvidia drivers
Fallout 4 snorkeler returns to chart Far Harbor's hidden depths
Pac-Man 256 is coming to consoles and PC with multiplayer
Minecraft signs Chinese development deal
E3 side event 'E3 Live' will be open to the public
How PC has shaped the future of Sega
Stuff
Some of the world's best artists are already in love with Overwatch
On the road with Hideo Kojima
Xavier Woods Hadoukens wrestler
The guy you're playing as in Doom is playing Doom
Videos
What's on at The Movies
SUICIDE SQUAD first reactions: It's the end of the world & it looks mighty fine
Win tickets to THE NICE GUYS because we're nice!
John Carpenter and Blumhouse join up for a new HALLOWEEN
Could Michael Keaton be the SPIDER-MAN: HOMECOMING villain after all?
They had the best tip in this new trailer for SAUSAGE PARTY
This new trailer for THE PURGE: ELECTION YEAR aims to keep America great
Last Updated: May 24, 2016