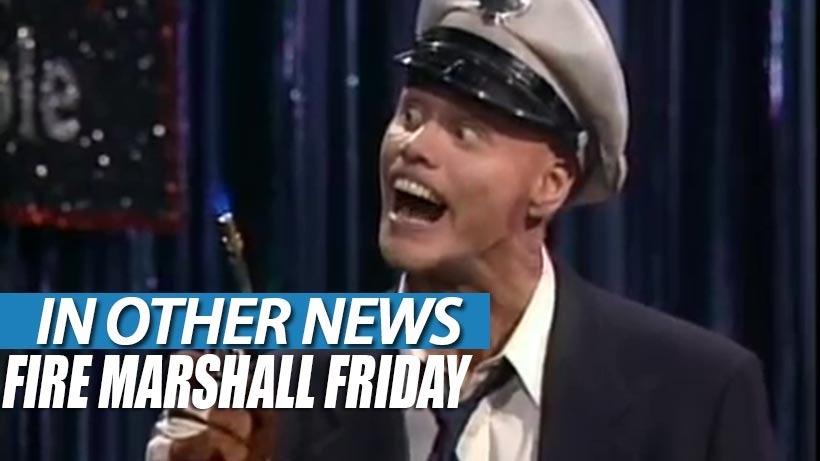 Howdy ho there Bill Blogerrinos. Fire Marshall Bill Bont here, and it's high time that this here website got a safety inspection. LEMME SHOW YA SOMETHIN'! Say you're installing a plug-in, you're high on a win in that there DOTA and you decide to celebrate by wrapping your mouse cord around your hand for some stranger danger.
Next thing you know, you've bumped your table, you've spilt some liquid on your precious PC and a chain reaction has begun that sends your entire motherboard shooting out at you in a hail of deadly over-priced shrapnel. LIKE THIS! HAHAHAHAHAHA! Looks like my organs just got turned into an OpenCritic page!
In Other News: Cthulu calls back, double up on your Black Ops XP this weekend, LEGO Dimensions is making mad coin and I really need $460 for a Snorlax cushion.
Here's the news that we didn't post today, because fire is beautiful, fire is wild and it should be used to show people somethin'.
News
Call of Cthulhu resurfaces with new developer
Battalion 1944 Kickstarter adds stretch goals, including a single-player campaign
Black Ops 3 offers double XP, free Steam multiplayer this weekend
The Witcher 3 composer confirmed for Cyberpunk 2077
Dead or Alive 5 Last Round is teaming up with Samurai Warriors
SNK Entertainment created to farm retro IP
Geometry Wars: Retro Evolved is playable on Xbox One again
1m sales and counting for LEGO Dimensions accessories
Stuff
Star Wars The Force Awakens traitor scene recreated in GTA 5
The Snorlax cushion of your dreams costs $460
Performance Analysis: Far Cry Primal
Hey Fran, been a while
Videos
What's on at The Movies
Win tickets to the pre-screening of PRIDE AND PREJUDICE AND ZOMBIES!
This new trailer for DAREDEVIL season two fights better than anyone I know!
Breaking: Marvel have found their IRON FIST!
WOLVERINE 3 confirmed to be an R-rated film, but not because of DEADPOOL
First impressions of DAREDEVIL season 2 are in
Ava DuVernay signed up to direct new film for Disney
Last Updated: February 26, 2016