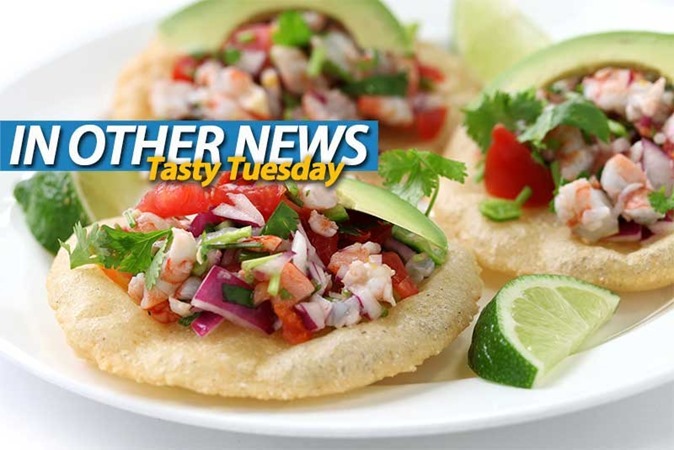 It's pretty cold today, and I need something to remind of a time when it wasn't; something fresh and fragrant that speaks of summer. I've said before that I'm not particularly fond of fish, though I do quite like to nibble on the frutti di mare that comes out of shells – but I digress. If I want something fresh and summery, there's nothing better than a ceviche; seafood cooked and cured by the acidity of citrus juice.
Yep, you can cook fish in lemon juice, and it's delicious. Favoured in South America where it's thought to have originated, the protein in the fish is denatured by the acidity of your favoured citrus, imparting those flavours as it marinades. A little chilli, a bit of salsa and a tostada, and you've got yourself a party.
In Other News: VR uncertainty sets developers free, Telltale wants to have its whole Batman game out this year, Ford feefs from Firewatch and FIFA may be broken.
Here's the news we didn't post because we were too busy watching Darryn choke Ostriches. Not a euphemism.
News
PlayStation: 'VR uncertainty is liberating for developers'
Telltale 'aiming to' get every Batman episode out this year
ElrubiusOMG, jackfrags and MKIceandFire were the top YouTubers of E3
Local Ford dealer steals Firewatch art to sell freedom (and cars)
FIFA Ultimate Team may have been bugged since 09
Stellaris' Asimov patch touches down
The Division 1.3 update is ready for download now
Stuff
Months later, players finally solve GTA V's Bigfoot mystery
Fatherhood isn't the shortcut to emotional complexity games wish it was
It's crazy how much work goes into a quality cosplay photo
Developer says Activision had Valve pull its game from Steam over allegedly stolen Call of Duty guns
Videos
What's on at The Movies
The second trailer for R-rated sci-fi thriller MORGAN will make you question your friends
STEP UP franchise to become streaming TV series on Youtube Red
Could Kellan Lutz be the next HE-MAN?
Let's make some noise with this final trailer for STAR TREK BEYOND!
Rumour: Marvel planning a 20th Century Fox crossover?
Iconic Italian actor Bud Spencer has died at the age of 86
Last Updated: June 28, 2016