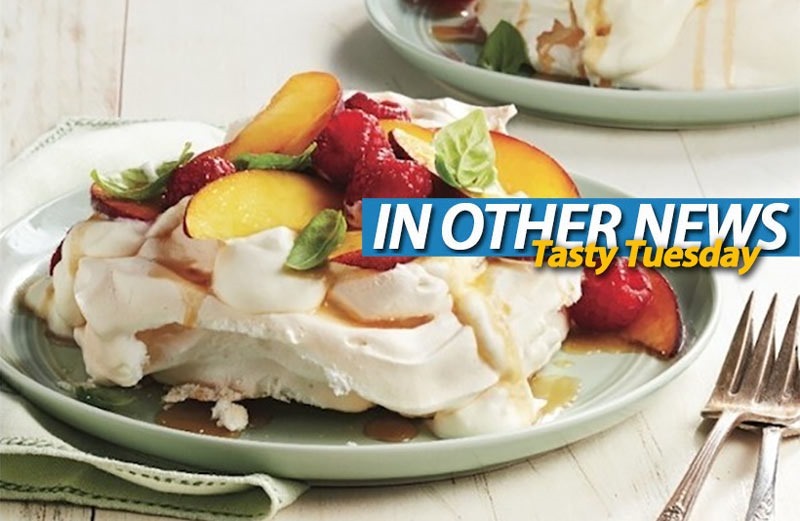 I don't even like the stuff, if we're being honest. I'm not a big fan of meringue; that slow baked blend of whipped egg whites and sugar. That said, when it's done right – with a crisp outer layer, and a chewy, almost marshmallow centre – topped with tart fruit to cut through the sugar and the richness of the whipped cream, it can be quite incredible.
Yes, we're talking Pavlova – for a few reasons. I saw it flash up in my Twitter feed a bit today (Hi Allan and Umar!). That and I also wanted something containing peaches, in the hopes that we may actually see an impeachment today.
In Other News: Life is Stranger than fiction, Why Rocket League exploded, play Smite at 60fps (on console!) and get extra XP in Blizzard's moba.
Here's the new we didn't get to because we were too busy reading Jacob and the Giant Impeachment.
News
Play any Heroes of the Storm character free this weekend and get extra XP
Road Redemption release aimed at the end of summer
Smite 60fps option coming to PS4 & Xbox One with next patch
Vermintide has sold half a million copies, free update on the way
Kingdom Hearts Unchained X launches in North America this week
Fan takes to Kickstarter to fund Life Is Strange 2
Street Fighter boss would love to see 'Nintendo vs. Capcom'
Stuff
Meet the tester who changed Street Fighter
Nintendo ends support for original DS in Japan
Why Rocket League blew up (and its predecessor didn't)
Cosplay photographers are tired of people stealing their work
Videos
What's on at The Movies
Mel Gibson is a real success story in this first trailer for BLOOD FATHER
Stephen King's The Shining sequel to get movie adaptation
John Carpenter's STARMAN set for a remake
Warner Bros rolls its dice and gets the DUNGEONS & DRAGONS film and director
Daniel Radclife is a farting corpse in the trailer for SWISS ARMY MAN… seriously!
Politics is war by other means in this new trailer for ALL THE WAY
Next Rob Zombie film 31 finally gets a release date
Header source: Chatelaine
Last Updated: April 5, 2016