We love our Newzoo reports here at Critical Hit, especially when they reveal the good news that esports is in fact growing at a rapid pace. This year's annual report shows revenue growth, growth in online viewership and audiences, all of course showing an increase of investments led by non-endemic brands which has been a defining feature for 2017 so far.
Last year's report showed esports growth at $1 billion by 2019, whereas the latest report is putting it at $1.5 for 2020. The economy is growing at a current year-on-year rate of 41.3%, which is rather incredible, but expected, considering the number of brands which are getting involved. Speaking of brands, Newzoo predicts that brand will spend as much as $517 million this year broken down into three categories: $155 million on advertising, $266 million on sponsorship and $95 million on media rights. It's this band investment which will see annual revenue double by 2020 to reach the predicted $1.5 million.
But, let's not concern ourselves with boring text, pictures always tell the best stories: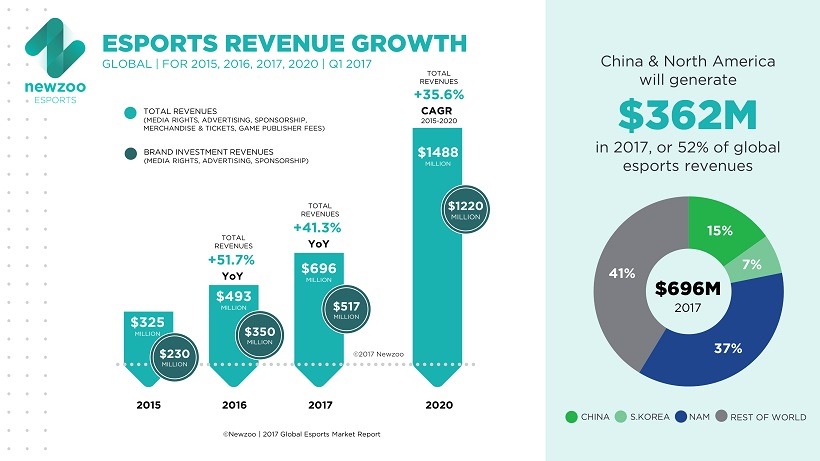 Of course, a quote from Newzoo CEO, Peter Warman:
"Esports is not only growing exponentially as a new independent business and industry, it is also accelerating the convergence of various established industries. For brands, media, and entertainment companies, esports provides a chance to capitalize on the favorite pastime of digital natives and Millennials: playing games and watching game content. With the arrival of live streams and events, gaming has entered the realm of broadcasters and media that can now apply their advertising business model to a market previously out of reach for them."
Next, of course, is viewership which is breaking records left, right, and centre when it comes to esports. Newzoo expects to see an audience reach of 385 million in 2017, with almost half made up of enthusiasts while the other half made up of occasional viewers. The number of esports fans is also set to grow by 50% toward 2020 with an expected 286 million fans. Again, let's look at some nifty images courtesy of Newzoo.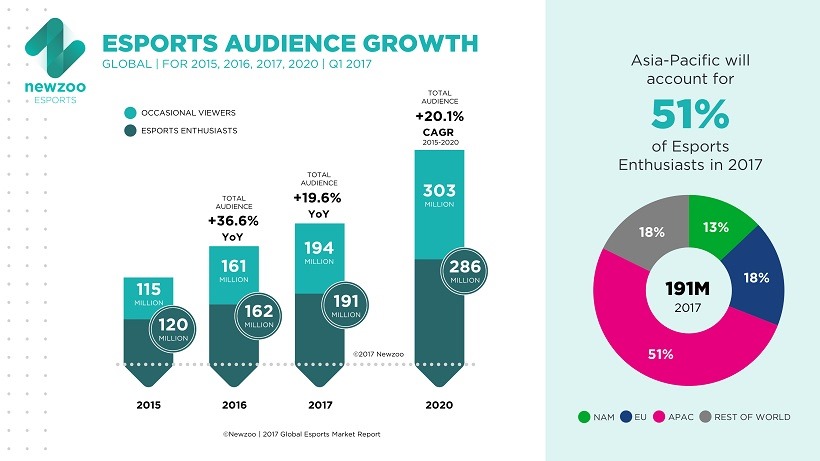 The report, as always, is rather extensive and includes various topics which I felt weren't import enough to include here, but if you're interested you can go have a read. These projections are always good to look at when comparing our growth versus that internationally. We're still limping behind, a bit, but have started to catch up and using information such as this is always great when making a decent argument for esports as an industry.
Like esports?
Check out esports central
Last Updated: February 15, 2017