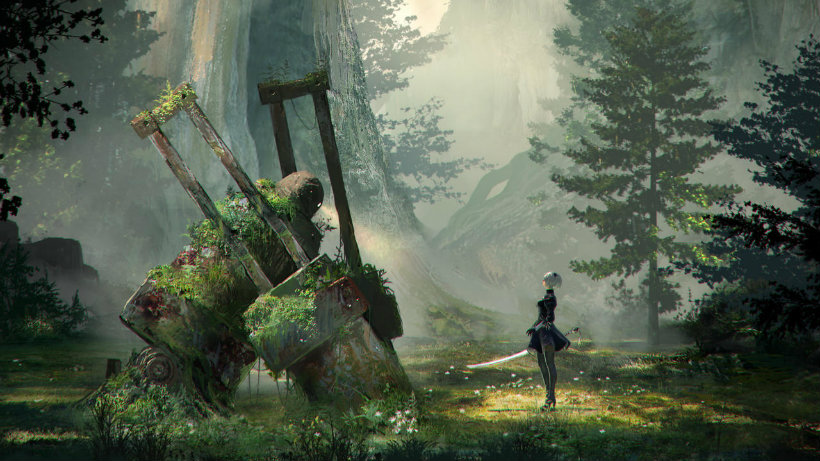 Nier was a flawed game, but it was still one of my favorite and most memorable gaming experiences. Compelling characters, a unique approach to replay value and an impressive soundtrack combined to make it an emotional if imperfect game. Nier: Automata seems poised to fix the mistakes and keep what they got right; by bringing on some of the original team but leaving the actual development in the hands of Platinum Games, this might be the Nier game we should have gotten.
I know that trailers and screenshots aren't really indicative of the final experience a title can offer, but I do so love looking at them. These screens (thanks DualShockers) in particular are looking rather great, and it makes me so happy to see just how gorgeous the game is at this early stage. The environments are looking incredible and I'm enjoying the closer look at the characters, even if I still have no idea what they're all about. I just hope they can live up to the standards set by the first game – each supporting character was better than the next, and even some of those bosses are burned in my mind thanks to their personalities. Those wolves man, those wolves.
Nier: Automata will be a PS4 exclusive, so hopefully all those people (like Sandy) who keep saying Xbox has all the cool exclusives so far will be silenced. Then again, we don't know when the game will be released, so it might not even be worth talking about for another bunch of months. I'm just hoping for some more gameplay reveals at E3 this year. Maybe the guys will even get to go hands on with it. And now I'm starting to get jealous about missing out on E3 and the hype season hasn't even arrived yet.
Last Updated: April 21, 2016