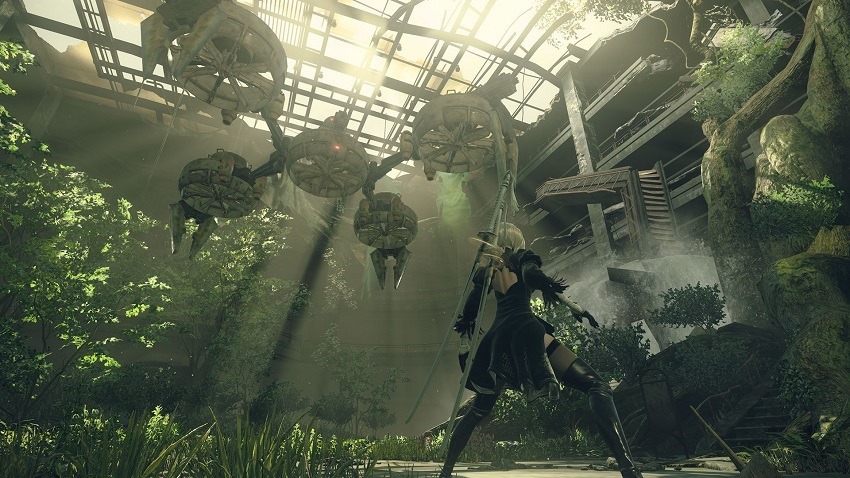 Platinum Games has a strong heritage, especially in recent years when you look at games like Bayonetta and Metal Gear Rising. That lustre and allure tapered off somewhat in the past year, with a string of mediocre projects that included the horrible Teenage Mutant Ninja Turtles: Mutants in Manhattan, and the cancellation of a massive project with Microsoft (it still hurts thinking about Scalebound). But in March this year, Platinum Games teamed up with Yoko Taro to release NieR: Automata. One of 2017's best titles, and one that might have just saved the studio.
That's a little less hyperbolic when you consider it's coming from studio co-founder and game designer Hideki Kamiya, who wrote a heartfelt thanks to Yoko Taro on Twitter months after NieR is still circulating as a massive, GOTY contender amongst critics and players alike. Translated by a user on NeoGAF, the message reads as a thanks to Yoko Taro for allowing Platinum to work alongside him – on a game that ultimately might have saved the studio from closing down.
Nier's success has to this point given Platinum a new fanbase, a growing staff, a brilliant success story, an increase in qualified job applicants, and a great benefit. Normally, I can't help but do everything by myself… it's a pitiful story, but to say that Yoko-san saved Platinum would not be an exaggeration. I cannot thank him enough.
How much of that is rooted in cold hard financial reality can be left to you to decide, but from an image standpoint it's certainly true. Platinum Games needed a big win after its string of disappointing releases and high profile cancellations, so Automata's brilliance (even if mainly for its storytelling) came at just the right time. Perhaps now the studio is breathing a little easier, which hopefully translates to more quality products in the near future.
Last Updated: August 15, 2017