Between all the big announcements and Keanu Reeves being breath-taking on stage, a few games revealed at E3 may have slipped under the radar this year. One such game is Bleeding Edge, a 4v4 fighter from none other than Hellblade and DmC: Devil May Cry developer Ninja Theory. On the surface, it looks like a barrel of fun: Third-person action, team-based gameplay and more combos than a McDonald's menu to make use of.
Games of this ilk thrive and survive on their roster, something that Bleeding Edge is looking to amplify as development heats up. From melee heavy characters such as Buttercup to a granny by the name of Maeve who uses cunning traps to keep opponents locked down, the variety and lunacy of the cast is shaping up nicely. So how about some cool local flavour then?
One such character does exist in Bleeding Edge, a Xhosa warrior by the name of Miko. Here's her official bio according to Ninja Theory: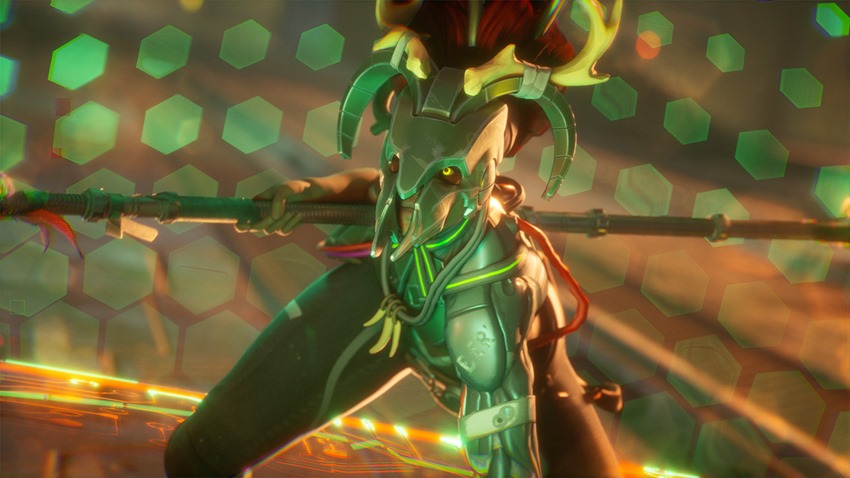 Despite being born into harsh conditions and relative poverty, Miko grew up happy, in a loving extended family unit, rich with their Xhosa ancestral heritage. As a young girl, she mastered her clan's ruthless fighting techniques under her grandfather's guidance. She would endlessly educate herself in her people's traditions and rituals.

But when Miko was diagnosed with a deadly new plague virus, she reluctantly left her family for the chance of a cure via experimental nanobot treatment. Little did she know what she was signing up for. They would augment and encage her, torment and enrage her, but genetic resiliency would soon fuel a spirited Miko. She would have her freedom, and on escaping the H.A. facilities would be whisked to safety by a young man in a demon mask.
In Bleeding Edge, Miko specialises as a support class fighter. She can chain heal allies, pop a kinetic shield to keep enemies at bay and freeze targets in place with her Stasis ability. Beyond that, she's able to deal some wicked damage with her staff and turn the tide of battle with a pair of Super attacks: Stalker allows her to cloak allies and heal them over time while also highlighting enemy positions, while Life Force gives a powerful healing buff to a friend.
Neat! It's rarely that South African flavour infiltrates a video game, but when it does it certainly stands out. Bleeding Edge will be out on PC and Xbox One in the near future.
Last Updated: October 29, 2019