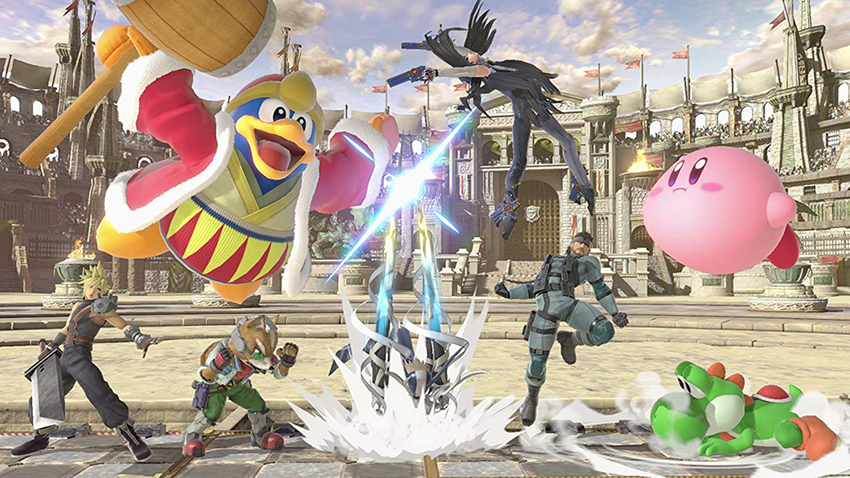 While my approach to playing Super Smash Bros. remains the ever-reliable button mash, the more talented players now have a chance to each other's characters senseless in Nintendo's new tournament series for 2019.
In a video posted to their website, Nintendo announced that the Super Smash Bros. Ultimate North America Open will commence next month. Qualifier events will take place in throughout four regions spread within the United States, Canada, and Mexico. The qualifiers will be made up of three single-elimination matches per region. From there, the top three players from each of those regions will move on to the final showdown, to be held at this year's Penny Arcade Expo in Boston, Massachusetts. You can check out the video here:
At the same time, players of Splatoon 2 will also have a chance to win fame and fortune at the all-new Inkling Open 2019. Qualifiers will happen online through the preliminary Ink pool. the final four teams that make it through will then also duke it out at PAX East.
The first qualifiers for the Super Smash tournament will happen on February 2, and you can register at Battlefy.
Meanwhile, Nintendo UK have announced their own Smash showdown with the European Smash Ball Team Cup 2019. This is a continental series that will feature players from across Europe. Each country ranging from the United Kingdom to Russia will hold qualifying events, wherein teams of three will combat in best-of-three and best-of-five Stock matches, with the only item being the elusive Smash Ball. The type of matches will also vary between 2v2 Smash and 3v3 Squad Strike, as well as the good ol' Smashdown. The finals will then be held in the Spring.
Dates for the qualifying events have yet to be announced so keep an eye out for that. We've also heard a bit of rumbling about some local Smash action – but we'll let you know if we hear more.
Last Updated: January 23, 2019