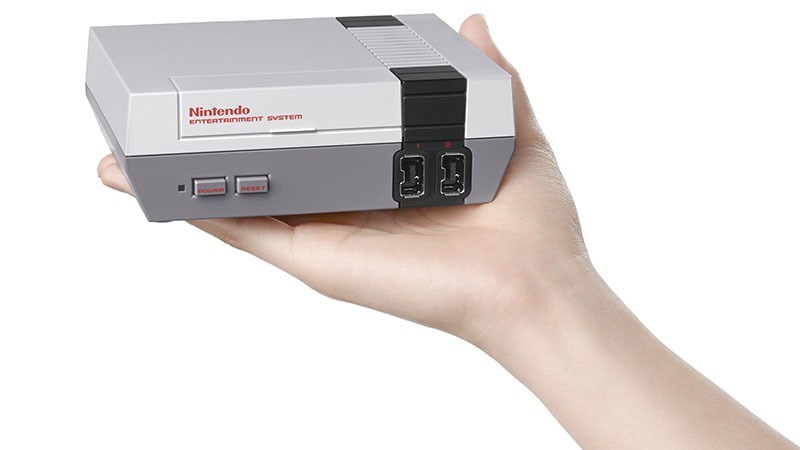 I admit it, I'm old. Okay, not like old, but I grew up playing my first games on the original NES, unlike Sandy whose first console was an imported original Xbox. I remember blowing on the cartridges, drawing my own maps of dungeons, and being allowed to phone the Nintendo hotline for a total of $5 per month if I was really and truly stuck – that's one way to discourage walkthroughs and cheats; it was actually cheaper to just figure it all out for myself. Now, those games are coming back, and they are poised to look better than ever.
Here is a new trailer for the Nintendo Classic Mini: Nintendo Entertainment System. I have mine pre-ordered, mainly because I figured it would be an adorable figurine that happens to play retro games that I needed ever since Geoff told us all about it. But this trailer shows that there is actually a lot more to love.
I was already excited by the adorable design and the list of games, but those extra features have totally sold me on it. Suspend play functionality? Upgraded displays? That means I can play the games with them looking how I remember them, not how they actually were. Because let's be honest, our old TVs and consoles weren't as bright or beautiful as we like to remember, but with these kinds of upgrades they can still look mighty impressive.
Then again, the guys are talking about doing some cool building, making their own custom mini-NES devices. I'll see if they follow through on it, and maybe ask them to teach me how. But honestly, I'm excited to buy this little device. It's nice to support these retro initiatives, even if they are just easy cash grabs from Nintendo. Plus, all I really want is that gorgeous mini-console and the ability to play Zelda, Mario and Final Fantasy on my TV again.
Last Updated: October 3, 2016