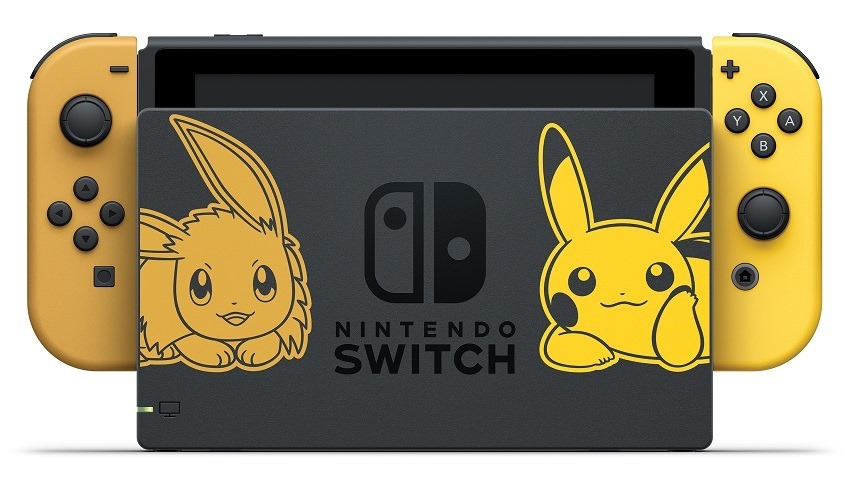 As the incredibly busy end of the year is fast approaching, all manners of exclusives on PS4 and Nintendo Switch (not you Xbox) are aiming to populate shelves and try and steal your attention. Part of that strategy is interesting new hardware bundles, preying on your impulsive nature and trying to trick you into thinking you need a brand new console – whether you own it already or not. For a lot of people around the world, Pokémon embodies the meaning of impulsiveness, so it's no surprise that Nintendo is giving you exactly what you want with Let's Go Pikachu and Eevee bundles for the Switch.
Two brand new bundles put a visual spin on the Nintendo Switch, making it clear to everyone within a 10 meter radius that you're trying to be one of the very best. The back of the Switch is adorned with a nice collage of both Pikachu and Eevee, flanked by two different yellow and brown Joy-Con on each side for each mascot. There's even matching Joy-Con grips, which round out the colours to fully represent both sides of the same coin.
These aren't two different bundles with either exclusively yellow and brown controllers sets though, so there's no picking sides here. You'll also have to live with the pretty unattractive Switch Dock images, which have both Pikachu and Eevee in adorable but equally irritating poses facing you every time you choose to play on a TV. I personally could've done without that single touch. Instead, the two bundles are separated only by the game they ship with – one will contain Let's Go Pikachu, while the other shops with Let's Go Eevee (the wrong choice, FYI).
Additionally, each bundle will come with the extra Let's Go Pokeball Controller, which will ship with the game for an additional $50. It's a pretty neat gimmick for the game, letting you feel the Pokémon inside with slight vibrations and letting you mimic Pokeball tosses in a more fluid manner. The zero sum means that you'll save around $10 in total with this $400 bundle, which isn't huge. But that's not really the appeal, right Pokémon fans?
Pokémon Let's Go Pikachu and Eevee launches exclusively for Nintendo Switch this November.
Last Updated: September 10, 2018